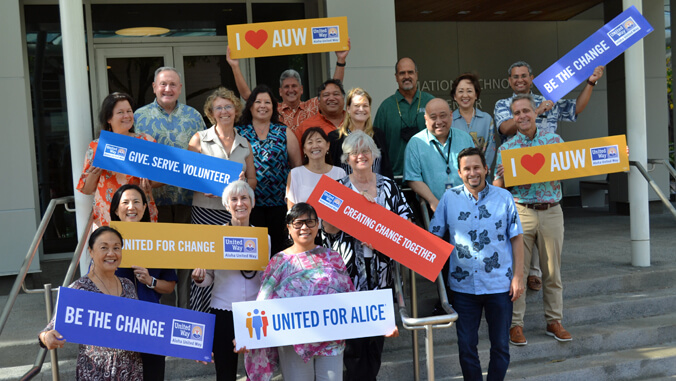 The University of Hawaiʻi is helping to touch lives, restore hope and build a healthier and stronger community through the 2022 Oʻahu Aloha United Way (AUW) campaign, which runs through October 7, 2022.
For more than 100 years, AUW has raised funds for local nonprofit organizations resulting in services that ultimately benefit hundreds of thousands of Hawaiʻi residents in areas including education, poverty prevention and safety-net services.
UH has consistently been a strong partner to AUW for many years thanks to the UH ʻohana. This year, UH hopes to continue this tradition with a 2022 goal of $176,000. With the ongoing impact of COVID-19, the economic hardships for many Hawaiʻi households has increased dramatically.
Every dollar contributed through AUW's campaign stays in Hawaiʻi, touching the lives of Hawaiʻi's children and families, friends and neighbors. Your donation enables AUW and its partner agencies to help address the greatest needs in our community. The programs supported through the AUW campaign help in numerous ways—preparing our keiki to succeed in school, providing support for health-related research, feeding the hungry, caring for the elderly, rehousing homeless families and so much more.
How to show support