Leeward Community College presents The Liliʻu Project's Makalapua, the latest in an ongoing series of performances that feature Queen Liliʻuokalani's mele in novel ways, on September 24 at 7:30 p.m. and September 25 at 3 p.m. This production explores the emotional and spiritual influence her compositions have had, and continue to have. The Liliʻu Project is dedicated to investigating Liliʻuokalani's music and memoirs, guided by her own free-spirited innovation and interest in contemporary trends.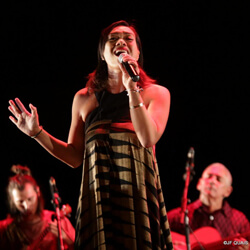 The musical ensemble is composed entirely of Leeward CC alumni, and is directed by Associate Professor John Signor.
Following their premiere at Leeward Theatre in 2014, the ensemble has presented Liliʻuokalani's compositions on Oʻahu, as guests of the Smithsonian National Museum of the American Indian, the Festival Á Corps International Dance Festival in Poitiers, France, and at Soul Force Sacred Music Festival in Pasadena, California. Their current production features performer Ehulani Kāne and vocalist Starr Kalāhiki in a re-imagining of the 2014 installation.
Tickets are: $30 general admission, $20 seniors and military, $15 UH faculty and staff, and $5 UH and K–12 students.
More information regarding performances and ticket sales is available at: http://www.leeward.hawaii.edu/theatre-events or call (808) 455-0380 or email Ltheatre@hawaii.edu.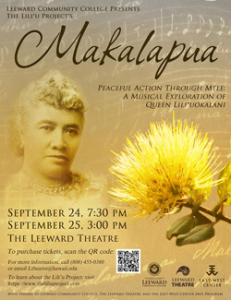 More about the
Liliʻu

Project

The Liliʻu Project is also engaged in educational and community outreach projects about Liliʻuokalani and her impact through workshops, lectures, and performances including collaborations with Carnegie Hall Lullaby Project, Mālama Honua Charter School, Liliʻuokalani Trust, Matsunaga Institute For Peace in UH Mānoa's College of Social Sciences, The Peace Studio and various assisted living, library and school presentations.

The project maintains a clear conviction that Queen Liliʻuokalani is among Hawaiʻi's most significant and influential song composers, and that her song texts continue to inspire contemplation on universal themes and understanding.