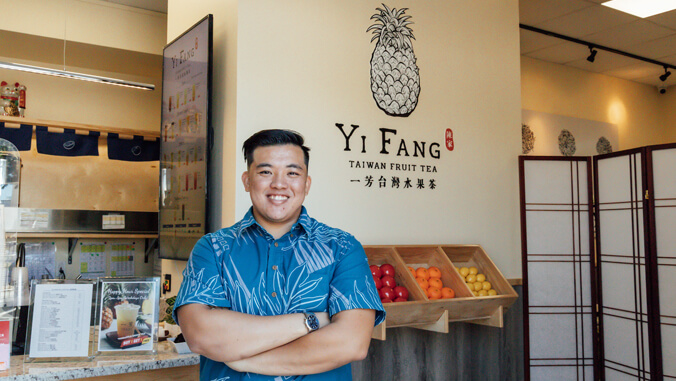 From an early age, University of Hawaiʻi at Mānoa Shidler College of Business alumnus Tony Wong Cam, BBA '15, was surrounded by entrepreneurship. He witnessed his family build a business from the ground up. After immigrating from Peru, his family started a farm on the west side of Oʻahu, growing local vegetables, including basil, green onion, choy sum and mustard cabbage for large wholesalers.
By the time he was in high school, Wong Cam assisted his family with business operations as their export business grew to markets including Texas, Miami, Chicago and Seattle. In 2017, following his graduation from Shidler college and working for a couple of years as a commercial credit analyst and management trainee at Bank of Hawaii, Wong Cam rejoined his family business, this time overseeing business development, corporate relations, auditing, accounting and finance.
In 2019, he wanted to branch out. He initially looked at studying immigration law, but an opportunity to manage operations at an L&L Hawaiian Barbecue in Waimānalo presented itself. He enjoyed franchise management so much that he decided to purchase the store from his uncle and L&L co-founder, Johnson Kam. From then on, he created his ideal team and learned the inner workings of executing a franchise business plan, a skill he learned from his time at Shidler college.
Being the natural leader he is, Wong Cam soon wanted a challenge of his own and to build something from the ground up. He desired to apply the lessons he learned from L&L, including community involvement and investment, and to encourage his staff to display quality, consistency and convenience in order to be successful. With those values in mind, Wong Cam and his brother, Henry Huang, opened the first Yi Fang Taiwan Fruit Tea in Hawaiʻi earlier this year.
Training opportunities for students
They eventually plan to expand and provide a training ground for young students to learn customer service while maintaining consistency and quality. Wong Cam looks forward to mentoring and guiding the younger staff, just as he was at Shidler college and by those in the business community. He believes in investing in the next generation, providing opportunities for students to learn soft skills and gain work experience.
"I enjoy working with younger people and helping them develop professionally," he said. "So I wanted to provide the younger staff with opportunities, such as introducing them to people to help them make the next decision in their careers or their schooling. A key pillar I wanted to pursue in entrepreneurship is to help develop the next generation of leaders in Hawaiʻi because we need that."
For more stories, see the spring/summer 2022 edition of Shidler Business magazine.