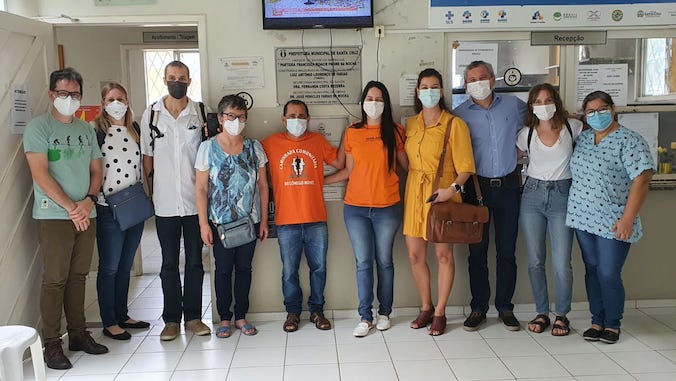 Obesity rates among women in Latin America are particularly high (29% in 2016), and the region holds the second-highest rate of teen pregnancies in the world, with an estimated 18% of teen pregnancies among women under 20 years old, according to The United Nations Population Fund. Studies of adult women have found associations between teen pregnancy and obesity later in life, but it's not entirely clear why these two phenomena are related.
Researchers from the University of Hawaiʻi at Mānoa and Brazil teamed up to explore the possible associations between teen pregnancy and obesity. Their findings resulted in a publication in Annals of the New York Academy of Sciences.
The article was co-authored by researchers from UH Mānoa's Thompson School of Social Work & Public Health, including Interim Dean Tetine Sentell, Associate Professor Catherine Pirkle, co-principal investigator for the Office of Public Health Studies' (OPHS) Healthy Hawaiʻi Evaluation Team Meghan McGurk, and graduate research assistant Alena Shalaby.
In the paper, researchers discuss several hypotheses that investigate the associations between pregnancy and childbirth during teenagehood and obesity across the life-span. The hypotheses consider pregnancy's distinct impact on growth trajectories during the critical period of adolescence, as well as physiological changes that happen to pregnant teens, but not adults, which may lead to later life obesity. Other hypotheses consider the long-term social and economic challenges that make it hard for teen parents to have a healthy body weight; and early-life factors that contribute both to teenage pregnancy and later-life obesity.
By clearly outlining these hypotheses, academic researchers across the world can more clearly define and direct their research on the topic, as well as identify important opportunities for policy and public health intervention.
Brazil conference presentation
In July, several academics from OPHS presented their paper and research virtually and in person at a conference hosted by the Federal University of Rio Grande do Norte, titled "Intersections between adolescent fertility and obesity—Seeking preventive synergistic solutions" in Natal, Brazil.
The conference included site visits to a maternity care hospital and primary care center in the rural city of Santa Cruz, and meetings to explore previous research studies and existing public health data on the health of pregnant women in Brazil. The conference culminated in a symposium with presentations from the Brazilian and OPHS collaborators.
The UH presentations included information regarding how to use the Social Ecological Model to frame health research and public health interventions, and discussed health inequities in Hawaiʻi. McGurk presented program evaluation work she collaborated on for the Hawaiʻi State Department of Health, including the Healthy Default Beverage Law and Choose Healthy Now, two obesity prevention initiatives that seek to promote healthful nutrition environments for everyone in Hawaiʻi.
"We have learned a great deal about the healthcare system in Brazil and are excited to continue our research collaboration to better understand the linkages between teen pregnancy, obesity, nutrition and physical activity," said McGurk.
The conference built on more than a decade of collaboration between researchers in OPHS and at the Federal University of Rio Grande do Norte. It served as a point of further collaboration to share health knowledge, programs and policies between researchers from Hawaiʻi and Brazil to address complex health problems of teen pregnancy and obesity.
Shalaby added, "This has been an invaluable experience as we learned about the successes and challenges associated with teen pregnancy in Brazil, while sharing our own evaluation work surrounding nutrition and obesity prevention in Hawaiʻi."