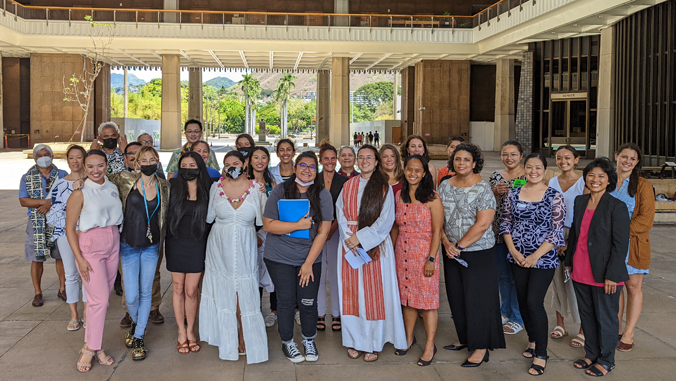 The first and only comprehensive guide to abortion rights and resources available statewide, the Hawaiʻi Abortion Guide, was published by the newly created Hawaiʻi Abortion Collective, a group that includes alumni from the University of Hawaiʻi at Mānoa William S. Richardson School of Law.
The guide was created and made publicly available online after widespread confusion arose from Roe vs. Wade being overturned by the U.S. Supreme Court in June 2022, with patchwork restrictions on abortion varying by state. The newly formed collective includes UH law school alumni Khara Jabola-Carolus, Cu Ri Lee, Deja Ostrowski, Keani Rawlins-Fernandez, Dina Shek and Rebecca Soon.
Consisting of members from the medical, religious and legal communities, the Hawaiʻi Abortion Collective is "a coalition dedicated to protecting abortion rights and reproductive healthcare," and "a multi-disciplinary, community-based, and BIWOC-centered (Black, Indigenous/Native Hawaiian, Women of Color-centered) formation coordinating all Hawaiʻi islands for free, universal abortion access."
The Hawaiʻi Abortion Guide provides medical and legal resources of information and financial support for those seeking an abortion in the state of Hawaiʻi. It is the first comprehensive guide to abortion in Hawaiʻi, which includes information on the legal rights and services for patients and medical providers.
"The Hawaiʻi State Commission on the Status of Women initially convened the Hawaiʻi Abortion Collective as a form of co-governance with the community," said Jabola-Carolus, a 2015 UH law school graduate and executive director of Hawaiʻi State Commission on the Status of Women.
Jabola-Carolus also emphasized the significance of connecting with the community. "The organized response to the historic loss of federal abortion protections should not be led only by people knighted as experts by education and licensure. To end abortion stigma—the underlying problem—we need people who know how to talk to each community in Hawaiʻi and to unify their community."
It was Jabola-Carolus who invited Rawlins-Fernandez, councilmember of the Maui County Council, to join the collective and help address issues of access. "We obviously have access issues throughout the paeʻāina (islands), with only Oʻahu and Maui having abortion care. Girls and women on other islands need to primarily fly to Oʻahu for this type of health care."
The Hawaiʻi Abortion Guide is the first project of the Hawaiʻi Abortion Collective, which formed a month prior to the guide's publication on August 21.
Future plans for the collective include distributing the guide to communities that may be isolated from access to information and resources by factors such as location, age, gender-based discrimination, language and immigration status. It will also be a "living guide" and continue to be updated and revised with the most current information available.