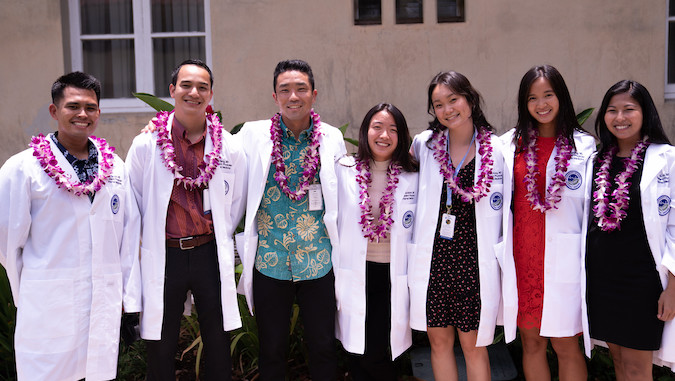 Aiko Murakami graduated from the University of Hawaiʻi at Mānoa John A. Burns School of Medicine (JABSOM) in 2022 with no debt.
"Looking at my friends who weren't as fortunate, it was a big relief that I didn't have to carry that burden," she said.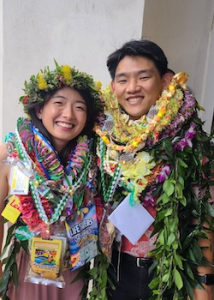 According to the latest numbers from the Liaison Committee on Medical Education (LCME), Murakami's story of achieving graduation with zero debt is becoming more common now than before at JABSOM. Statistics from 2022 show more than 40% of JABSOM graduates left school with zero debt, compared to 29% at all other medical schools.
This positive change results from the investments the JABSOM ʻohana has made in scholarships. Compared to other medical schools, UH medical school students are getting more of a financial head start as a whopping 93% of the graduating 2022 class reported receiving at least one scholarship. Only 64% of students across all medical schools can attest to that.
"I don't think people expect that from a public school," Murakami said.
Raising scholarship funds
Recognizing that educational debt can be a barrier to a student choosing a primary care discipline or practicing in a state with a higher cost of living/practice, JABSOM leaders and the UH Foundation have been working to raise scholarship funds to reduce that financial barrier for its students.
Partners include community donors, philanthropists and Hawaiʻi's health systems, including Queen's Health, Hawaii Pacific Health, Kaiser Permanente Hawaii and Adventist Health Castle.
I would have had to take out a loan. I wouldn't have had enough to pay for school and life
—Aiko Murakami
Students can apply for dozens of scholarships in a wide variety of categories. JABSOM offers dedicated scholarships for first and second year medical school students, those with Native Hawaiian ancestry, and those who graduated from the school's ʻImi Hoʻōla program, an important post-baccalaureate program for disadvantaged students.
Scholarships such as the Barry and Virginia Weinman Scholarship Matching Challenge, paid students' full tuition for the entire four years of medical school. Murakami was one of its recipients, and she realizes life would be drastically different without it. The Weinman scholarship allowed her to dedicate all her energy to education and refocus her desire to stay and practice in her home state.
"I would have had to take out a loan. I wouldn't have had enough to pay for school and life," she said.
Related: Community partners donate $3.66 million for 23 "full-tuition" JABSOM scholarships
Murakami's scholarship package totaled more than $100,000. Making a dramatic positive difference in the finances of its students was the goal of JABSOM's Dean Jerris Hedges.
"Making education affordable is of paramount importance now more than ever. I committed to developing and enhancing our scholarship opportunities and am thrilled at how rapidly scholarship support has grown in just four years," Hedges said. "The scholarships awarded to our students not only change their lives but also pave the way for Hawaiʻi to retain the talent we foster at JABSOM. Having more doctors from Hawaiʻi financially able to practice in Hawaiʻi, will in turn support the health and enrich the lives of Hawaiʻi residents."
Higher scholarship amounts, less student debt
The success of that plan is reflected in the numbers. In 2018, no students reported receiving scholarships between $150,000 and $199,999. Today, 23.7% of graduating students in the 2022 class have received scholarships between those figures. More eye-opening is that 22% of JABSOM students reported having received no scholarships upon graduation in 2018. Less than 7% of students made that claim in 2022.
Most JABSOM scholarship recipients also see a significant impact on their personal finances.
$80,000 is the median scholarship amount for JABSOM students, while $30,000 is the median for their continental U.S. counterparts.
While the overwhelming majority of JABSOM students receive financial aid through scholarships, debt remains commonplace in medical school. Still, the sting of debt is not as painful for JABSOM graduates. The 2022 LCME data show that 48% leave with less than $50,000 in medical school debt. Only 36% of students graduating from all other medical schools can say that.
Upon graduation, 46% of JABSOM graduates have plans to serve in underserved areas, compared to 29% of students at other schools.
"I've always wanted to practice here. Going to JABSOM reinforced that. I never wanted to change that course. I wouldn't be able to survive anywhere else," said Murakami.