Windward Community College has set a goal to raise $1 million for student scholarships over its golden anniversary year and kicked off the fundraising drive in September with an event that included dignitaries, students, alumni and the unveiling of the Chancellor's Wall of Fame.
In attendance was Janice Nielsen, a Kailua resident and donor to the college, who has served as a Windward CC ambassador for more than a decade.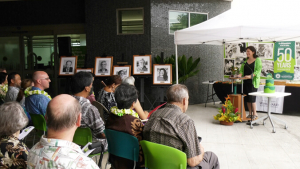 "Education is so important because no matter what happens to you in your life, no matter where you go in your life, no one can take away your education," Nielsen said. "All you have to do is come and get it, and we don't want the financial needs to deter those who really want their education."
Fundraising opportunities and events are listed on the college's 50th Anniversary website, and donations can also be made there.
Scholarship impact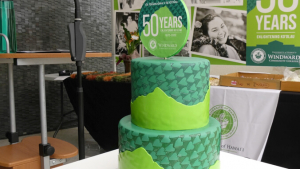 Earlier this year, Windward CC announced the Hoʻolei Tuition Award, which provides full-tuition at the college for the first year—fall and spring semesters—for 2022 graduates of public and charter schools in Windward Oʻahu. The award offers tuition savings of up to $3,144, and, for many, a chance to attend college.
This fall, Windward CC enrolled 391 freshmen. Of those, 271 received full-tuition scholarships.
"I think it's made a big difference because otherwise I would probably be in debt right now in college," said Alicia Daraban, a scholarship recipient and Castle High School graduate who plans to eventually pursue a bachelor's degree in computer science. "Combined with other scholarships I've gotten, I have excess money so I can buy better computers to code on and I can better afford other things in life like textbooks."
Kailua High School graduate Aidan Furuya is also a scholarship recipient.
"It just blows my mind that they just give free tuition," he said. "I'm very grateful."
50 years of service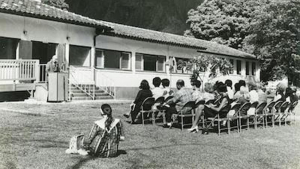 In 1972, the original Territorial Hospital site was transferred from the Department of Health to University of Hawaiʻi for the creation of the Windward CC campus. On opening day, September 18, 1972, there were 525 students.
Today, about 2,500 students, primarily from the windward Oʻahu coast from Waimānalo to Kahuku, attend Windward CC.
"Our students are the lei that we sew across the Koʻolau. They shine and bring the brightness of the light of education across the entire district and beyond," said Windward CC Chancellor Ardis Eschenberg. "We want to build the foundation so that education is accessible and relevant on this side of the island for the next 50 years and beyond."
—by Kelli Abe Trifonivitch