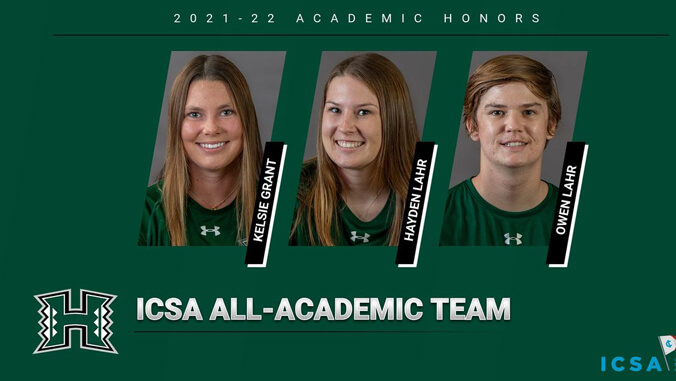 A trio of University of Hawaiʻi at Mānoa sailors were named to the Intercollegiate Sailing Association's (ICSA) 2021–22 All-Academic Team. Hayden Lahr, Owen Lahr and Kelsie Grant earned the recognition for their accomplishments on the water and in the classroom.
Team captain Hayden Lahr completed her fourth year with UH sailing and earned her degree in animal science this past spring. As a skipper, she helped UH to runner up Pacific Coast Collegiate Sailing Conference (PCCSC) finishes in both the Team Race and Spring Dinghy championships. She was also a crew member of the UH coed squad that had an impressive second-place finish at the LA Harbor Cup.
Owen Lahr completed his junior year at UH as a finance major. He sailed in a half dozen regattas as a freshman, while serving as an alternate for much of the past two seasons.
Grant is a communications major who competed in a dozen regattas last year, serving as crew for both the Rainbow Wahine and coed squads. She helped UH take a pair of regular-season regatta trophies in 2021–22 and was part of the Rainbow Wahine squad that advanced to the ICSA Women's National Semifinals.
A total of 188 student-athletes from across the country were named to the team. The ICSA All-Academic Sailing Team recognizes juniors and seniors who have participated as a competitor or alternate in at least seven regattas and have a cumulative GPA of 3.3 or higher on a 4.0 scale.
UH sailing kicks off its 2022–23 campaign this weekend when it competes in the PCCSC Singlehanded Championships September 24–25 in Santa Barbara, Calif.