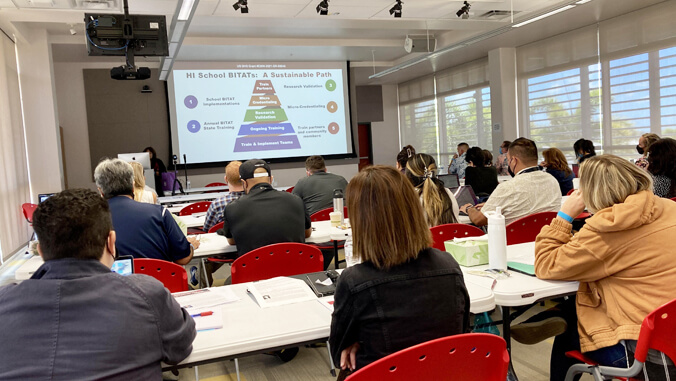 The Department of Homeland Security (DHS) awarded the University of Hawaiʻi–West Oʻahu $533,285 for its efforts to address targeted violence and threat prevention. The award is part of a DHS program that works to prevent incidents of domestic violent extremism, as well as to bolster efforts to counter online radicalization and mobilization to violence.
In September, DHS announced the awarding of 43 grants totaling $20 million under the Targeted Violence and Terrorism Prevention (TVTP) grant program for fiscal year 2022.
"The newly awarded TVTP grant funds will further Hawaiʻi efforts to build state capacity, engage and train members of our community, and help to build a bystander intervention program that works for our community," said Bev Baligad, principal investigator of the UH West Oʻahu grant.
Baligad is the director of compliance and chair of UH West Oʻahu's Behavior Intervention Team, which is considered a leader within the state for implementing and utilizing national best practices in the field of threat assessment.
"Working in partnership with one another is how we best prevent acts of terrorism and targeted violence," Secretary of Homeland Security Alejandro N. Mayorkas said in a release. "Through the grant awards we are announcing today, we are equipping local communities and organizations—including those historically underserved—with needed resources so they can become more effective partners, strengthen our security, and help the American people feel safe and secure in our daily lives."
Related story: School violence prevention aim of $780K Homeland Security grant, October 18, 2021
UH West Oʻahu has received a two-year total of more than $1.3 million from the TVTP grant program. This year's award follows $780,671 in 2021 for the university's efforts to create threat assessment and management teams and bystander training.
Baligad said, "UH West Oʻahu continues to be heavily involved in the state's strategy to address targeted violence and threat prevention, and we are excited to work closely with our community members to build awareness that will help keep our ʻohana safe."
Read more in Ka Puna O Kaloʻi.
—By Zenaida Serrano Arvman