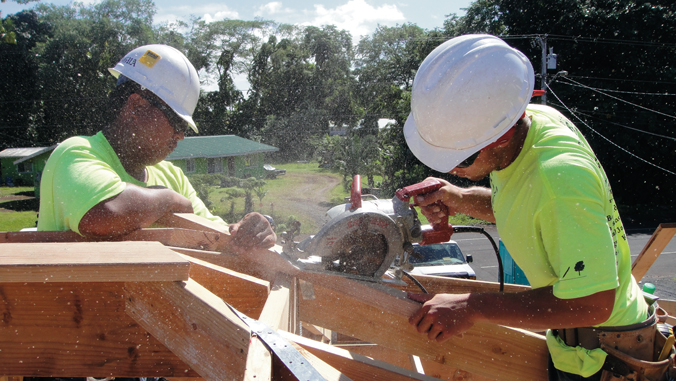 Seats are available in a free eight-week carpentry pre-apprenticeship training program offered by Honolulu Community College for residents interested in pursuing career pathways in the skilled trades as carpenters, drywallers and millwrights starting October 10, 2022.
Apply to the carpentry pre-apprenticeship training program
The successful completion of this intensive, hands-on course serves as a direct pathway to becoming a registered apprentice with the Hawaii Carpenters apprenticeship program. Training starts with carpentry fundamentals and basic tool use, construction math, basic print reading and applied carpentry skills. It culminates with a two-week paid internship at an active construction site.
Tuition for Oʻahu residents will be sponsored by Hana Career Pathways, a statewide program offering short-term trainings that lead to industry credentials and registered apprenticeship programs.
Students will also be offered paid internship and employment opportunities.
Classes are held at the Hawaii Carpenters and Drywall Training Fund Center in Kapolei from October 10 to November 21, Monday–Friday, 7:30 a.m.–4 p.m. Required internship placements will be scheduled for November 28–December 9.
Visit uhcc.hawaii.edu/training to learn more and apply directly online.
Financial support is provided by U.S. Department of Education federal grant #V425G200038, Reimagining Workforce Preparation: Hana Career Pathways, in the amount of $13,370,383.58 for the period of October 1, 2020–September 29, 2023.