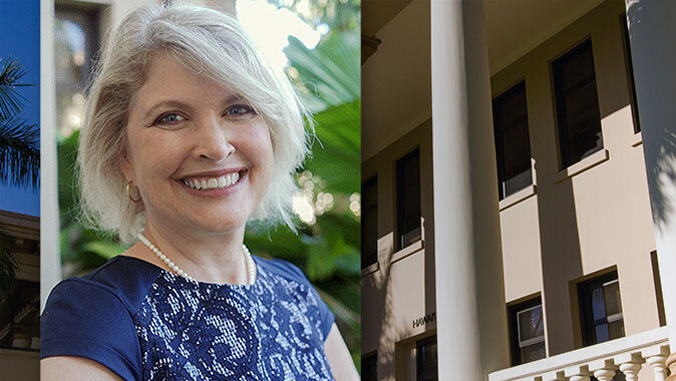 Denise Eby Konan, dean of the College of Social Sciences (CSS) at the University of Hawaiʻi at Mānoa, has been appointed by the federal government to the Palau Economic Advisory Group. She is the first woman to serve on the advisory group.
"I'm excited to contribute to the long-term economic sustainability of Palau, which is meaningful because I live in an island economy, and am familiar with this dynamic island nation," said Konan. "The challenges of climate change, economic remoteness, resource limits, water access and youth employment are commonly faced in Palau and across our island states."
Konan has been CSS dean since 2012, and is also a professor in the UH Mānoa Department of Economics and co-founder of the UH Economic Research Organization or UHERO. As a noted international trade economist, she has worked extensively in the Pacific and Asia, the Middle East and North Africa. She was recently named board president of the Northeast Asia Economic Forum.
In addition to Konan, four other individuals were appointed to the advisory group, consistent with the Palau Compact Review Agreement, as amended. The announcement was made by the U.S. Secretary of the Interior's Office of Insular Affairs.
Other members of the advisory group are James K. Galbraith, a professor at the Lyndon B. Johnson School of Public Affairs at the University of Texas at Austin; Kaleb Udui Jr., minister of finance in the government of the Republic of Palau; Peter Watson, president and CEO of The Dwight Group LLC; and Naoyuki Yoshino, professor emeritus of economics at Keio University and former dean and CEO of the Asian Development Bank Institute in Tokyo.