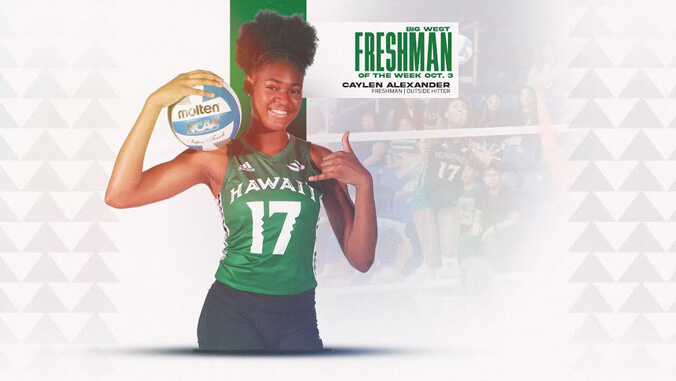 University of Hawaiʻi at Mānoa women's volleyball outside hitter Caylen Alexander earned her third overall and second-straight Big West Freshman of the Week award. The freshman produced a pair of double-digit kill matches in two road wins last week.
Alexander totaled 23 kills last week, including putting down first set winning points against Cal State Fullerton on September 30 and Long Beach State on October 1. In the sweep against Cal State Fullerton, Alexander put down 10 kills while hitting .350 with a dig. She added 13 kills and three more digs in UH's 3-1 victory against Long Beach State.
Alexander has appeared in all 12 matches for the Rainbow Wahine this season, recording more than 10 kills in seven of them. She has tallied 38 kills over the past three contests alone, hitting at a .365 clip. She has helped to lead UH to a season-long five match win streak while remaining undefeated and tied with UC Santa Barbara at 4-0 atop the Big West standings in conference. UH went over the .500 mark overall for the first time this season after the win at Cal State Fullerton.
Alexander now leads all conference rookies with three Big West Freshman of the Week honors claimed over the first six weeks of the season.
For more, visit the Hawaiʻi Athletics website.