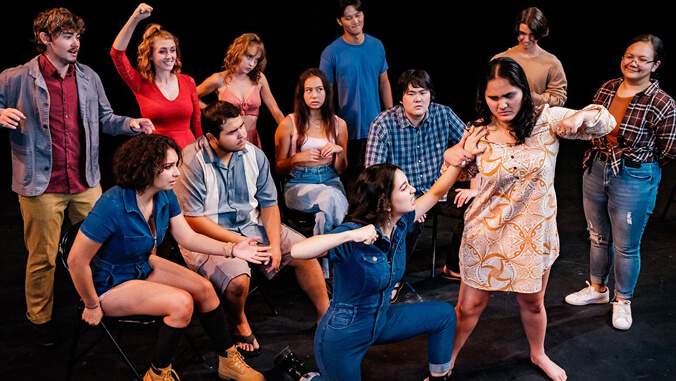 Action, magic and humor will abound on stage in Demigods Anonymous, a new show running October 28–November 6 at Windward Community College's Palikū Theatre. Written by Windward CC alum Noa Helela, the queer-centered superhero fantasy tells the story of people manifesting ancient kupua (demigod) powers to transform into animals.
Demigods Anonymous follows Noe Lahana, who struggles with shapeshifting into a giant lizard, at her mandated Demigods Anonymous meetings. She, her girlfriend Marcella and their friends face their meeting facilitator, who is condescending at best, evil at worst.
"At 19, I learned that rehab isn't a safe place to be a queer, mentally ill Hawaiian woman," said Helela. "So, years later, I wrote Demigods Anonymous."
The cast includes Reece Flores as Noe, Sydney Ishikawa as Marcella and Marie Richter as the menacing counselor. First performed at the Kumu Kahua Theatre in 2018, the play has since been updated, and now features an entirely different ending and approach.
Helela is a Hawaiian-Asian-European multimedia artist whose work includes filmmaking, playwriting, music and poetry. Helela is a Hawaiʻi Conservatory of Performing Arts emerging island artist. Most of her projects involve fantasy realism and dark humor, with intersectional themes including mixed racial identity, diaspora, native issues, racism/racial violence, colonization, feminism, queer relationships and trans identity.
"Noa Helela is a brilliant writer and artist; her empowering play is a metaphor for systemic oppression that BIPOC (Black, Indigenous, people of color) and Indigenous people often face," said Director Taurie Kinoshita. "Western art is often binary but Demigods Anonymous defies simplistic categorization."
For more information about Demigods Anonymous, visit the Palikū Theatre website.
Show dates and times:
Friday, October 28, 7:30 p.m.
Saturday, October 29, 7:30 p.m.
Sunday, October 30, 4 p.m.
Thursday, November 3, 7:30 p.m.
Friday, November 4, 7:30 p.m.
Saturday, November 5, 7:30 p.m.
Sunday, November 6, 4 p.m.
Tickets
$20 general admission
$15 senior, UH faculty/staff and active military (with ID, up to two tickets)
$10 youth ages 13+ and college students with ID
To purchase tickets, visit the Palikū Theatre website.