A recent University of Hawaiʻi at Mānoa graduate, who is making tremendous strides into Alzheimer's disease research, was recognized as one of the top student scholars in the nation.
Geetika Patwardhan, a spring 2022 molecular cell biology graduate in the UH Mānoa School of Life Sciences and Honors Program alumna, has been named one of four 2022 Portz Scholars by the National Collegiate Honors Council (NCHC).
As an undergraduate, Patwardhan worked at the John A. Burns School of Medicine (JABSOM) in Associate Professor Ben Fogelgren's National Institutes of Health-funded laboratory. During those four years, Patwardhan's research focused on identifying new molecular mechanisms in neurons that regulate the production of amyloid-beta, a peptide that accumulates as plaques in the brains of Alzheimer's disease patients. These plaques disrupt function and ultimately lead to the mental decline associated with Alzheimer's. Patwardhan's research looked at how and why these plaques accumulate in the brain.
Her work has contributed to several exciting discoveries in the field, including the characterization of a new signaling pathway by which insulin could directly affect amyloid-beta production in neurons. The work will hopefully point toward possible pharmaceutical targets to treat the disease.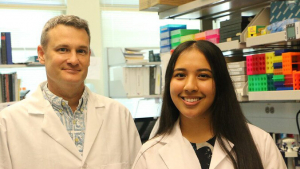 Patwardhan is continuing her training as a postbaccalaureate research fellow at the National Institutes of Health campus in Bethesda, Maryland in its two-year Intramural Research Training Award program. She eventually hopes to earn her MD and PhD, and become a physician-scientist in Hawaiʻi.
"I am thrilled and proud to represent the Honors department and the University of Hawaiʻi on a national scale," Patwardhan said. "I feel very grateful to be given the opportunity to showcase the important and rigorous research done at UH and JABSOM."
UH Mānoa's continued student success
NCHC institutional members can nominate only one thesis per institution written by an undergraduate honors student for the competition. Patwardhan is the fifth UH Mānoa Honors student over the past seven years to earn this prestigious recognition.
"Geetika really took advantage of the research opportunities available at UH Mānoa, and was fortunate to find an incredible mentor in Dr. Fogelgren," UH Mānoa Honors Program Director Vernadette Vicuña Gonzalez said. "The representative from NCHC commented on how rare it is to consistently see Portz Scholars from the same university year in and out, which is a testament to the quality of our students and the kind of faculty mentoring they are receiving."
The Portz Scholar program was named in honor of John and Edythe Portz. John Portz was the first director of the honors program at the University of Maryland, College Park, and one of the founders of the National Collegiate Honors Council, the professional association of undergraduate honors programs and colleges.
Goldwater Scholar
Patwardhan also earned a national Goldwater Scholar award in 2021 for her research. She was UH Mānoa's first recipient of the award in over 30 years, and was one of approximately 410 recipients across the country out of more than 5,000 applicants. During her undergraduate career at UH Mānoa, Patwardhan volunteered for JABSOM's H.O.M.E. (Homeless Outreach Medical Education) Project, under the guidance of Associate Professor Jill Omori. She is also one of three recipients of the Student Excellence in Research Award, presented at the 2022 UH Mānoa awards ceremony in May.