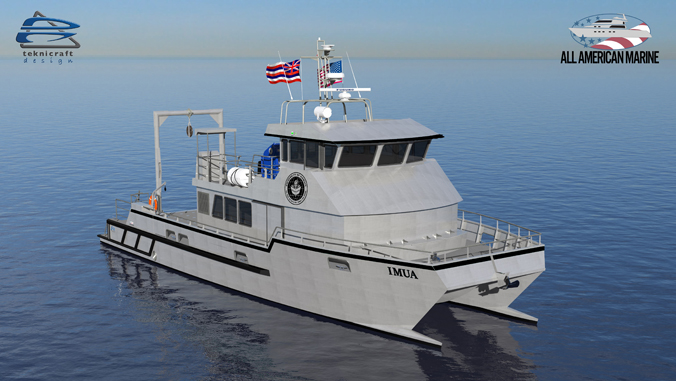 The University of Hawaiʻi at Mānoa will welcome a new research vessel Imua in fall 2023. The 68-foot semi-displacement aluminum catamaran will be used by a team of 12 researchers at the UH Mānoa Hawaiʻi Institute of Marine Biology (HIMB), including two Coast Guard-certified captains who will operate the vessel. The All American Marine, which specializes in constructing vessels, was awarded the contract to build Imua.
Imua is a part of the $50 million gift from Dr. Priscilla Chan and Mark Zuckerberg to HIMB earlier this year to improve Hawaiʻi's ocean health. The knowledge gained from science missions on this vessel will directly support the management and conservation of Hawaiʻi's marine resources.
The twin-engine speed and fuel-efficiency of the vessel will be fundamental in meeting UH's research goals and allowing researchers access to study marine environments in the Hawaiian Islands.
"We will use Imua to deepen our understanding of Hawaiʻi's marine ecosystems, inspire and teach the marine scientists of tomorrow, and bring exciting K–12 learning experiences to local communities across the state," said Chip Fletcher, UH Mānoa School of Ocean and Earth Science and Technology interim dean.
Imua can range from shallow coastal waters out to 150 nautical miles offshore while supporting a science crew of eight for up to a week. The vessel has been custom designed to support a diverse portfolio of science and outreach missions including advanced studies on marine megafauna, pelagic and coastal ecosystem research, oceanographic surveys, and K–12 learning experiences for up to 20 people.
Expanded research abilities
Imua's advanced research capabilities will give researchers important new insights into difficult-to-study wild animals such as sharks and whales, and enable monitoring a broad spectrum of ocean health parameters and exploration of lesser-known habitats such as the bathyal (down to the edge of the continental shelf) and pelagic zones (from the surface to the bottom of the sea).
"This is an exciting opportunity for UH and the Hawaiʻi community because Imua represents a substantial increase in our capacity for marine science research, training and outreach," said Carl Meyer, UH Mānoa assistant researcher at HIMB. "For decades we have lacked a UH vessel that fills the gap between small research vessels and large ocean-going research ships."
Imua complements and enhances UH's current research fleet and greatly enhances access to coastal and pelagic marine habitats around Hawaiʻi.