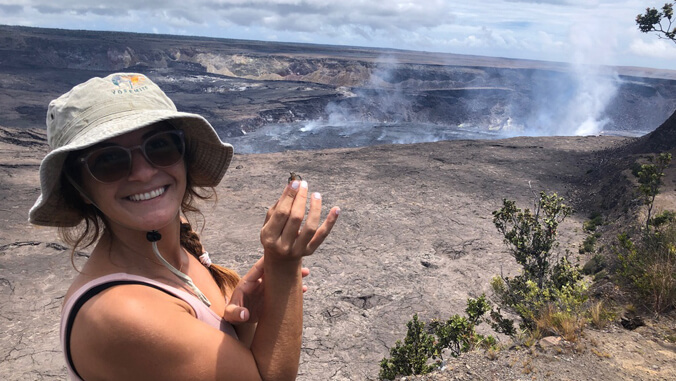 Three University of Hawaiʻi PhD candidates are recipients of a national fellowship aimed to tackle barriers women face in education. UH Hilo's Sasha Nealand (Kovacs), and UH Mānoa's Valentina Alvarez and Hannah El-Silimy were each awarded $20,000 to pursue academic work and lead innovative community projects to empower women and girls from the American Association of University Women (AAUW).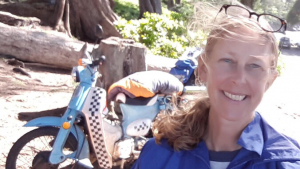 Nealand (Kovacs), a PhD candidate in pharmaceutical sciences at UH Hilo's Daniel K. Inouye College of Pharmacy, is pursuing dissertation research focused on the separation, isolation, structure elucidation (process of determining the chemical structure of a compound) and antimicrobial activity of medicinal compounds from a local medicinal plant called the coast gumplant (Grindelia stricta platyphylla) from her hometown in Half Moon Bay, California. This plant has traditionally been used to reduce inflammations and treat respiratory ailments. It produces a resinous gum that is rich in terpenes (compounds responsible for the way most plants smell), which are the medicinal compounds that Nealand (Kovacs) is investigating. She is expected to complete her dissertation research and graduate in June 2023.
"I was extremely pleased and proud that AAUW chose to support my dissertation research," Nealand (Kovacs) said. "The chance for full-time graduate study and research has been a lifelong dream. I had been struggling to fund my studies for several years, through various part-time jobs and scholarships. This very generous fellowship has given me the opportunity to fully concentrate on research and finally complete my dissertation."
Alvarez, a PhD candidate in biology in UH Mānoa's School of Life Sciences, is pursuing dissertation research on several species of lizard that have been introduced to the Hawaiian Islands at different time points in history and through different means. Alvarez uses genetic data to unravel where these species originated, when they arrived and whether they are spreading from Hawaiʻi to other parts of the world. She is expected to graduate in summer 2023.
"I am thankful to the AAUW for the work that they do in providing women with opportunities they would otherwise not have," Alvarez said. "By raising women up, they are helping to level the playing field so that this commonly disadvantaged group can strive to achieve their goals."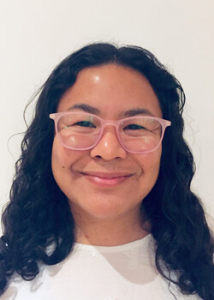 El-Silimy, a PhD candidate in political science and Indigenous politics in UH Mānoa's College of Social Sciences, is pursuing dissertation research focused on how Indigenous women activists in Northern Thailand and the Thai-Burma border region are leading efforts for healing, solidarity and empowerment for themselves and their communities. Her research is being conducted in partnership with Indigenous women's networks based in Chiang Mai, and utilizes participatory, Indigenous feminist and feminist ethnographic research methods. In addition, El-Silimy is participating in a collaborative, community-based research project that will produce mixed media forms of storytelling as well as a research report about Indigenous women's lives in Thailand and Burma after the military coup.
"I was very honored and appreciative to receive this dissertation fellowship. The funds will be invaluable for me to complete the final stages of my PhD studies and write my dissertation!" El-Silimy said. "I would like to encourage other women doctoral students at the University of Hawaiʻi to apply for AAUW funding—it's a great opportunity to get support in your final year of dissertation writing."
Applications for AAUW's fellowship and grants open annually on August 1, and deadlines vary by program. Learn more about AAUW's funding opportunities for the 2023–24 academic year.
—By Marc Arakaki