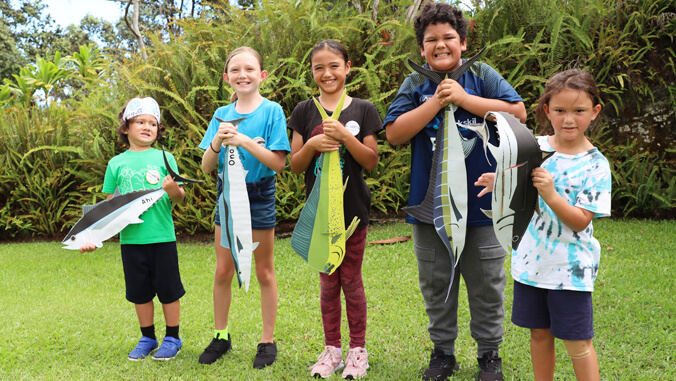 After two long years of social distancing, masks and quarantine mandates, a two-day festival designed to re-engage the Hawaiʻi Island community in "interconnected awareness" with people and the natural environment will be held at ʻImiloa Astronomy Center, an educational outreach center located on the University of Hawaiʻi at Hilo campus. The ʻIkuwā Festival set for October 15–16 is an extension of the center's annual Wayfinding Festival held during October, but with emphasis on activities that help repair and rebuild human connection. The event will run from 10 a.m. to 3 p.m and is free and open to the public.
"This ʻIkuwā Festival is [meant to] weave the web of relationships from ma uka (the uplands) to ma kai (the ocean) that are represented on the canoe," said Kaʻiu Kimura, executive director of ʻImiloa.
There will be canoe training demonstrations, activity booths, take-home arts and crafts, live entertainment, presentations and storytelling. The family friendly event will also feature a Kūekeolioli keiki oli (children chant) challenge, Makahiki games, local vendors and food.
"ʻIkuwā is the month when great storms arise, dark clouds form, the sea roars, thunder rolls, birds squawk, and the resounding energy of the honua (Earth) vibrates," said Kekuhi Kealiikanakaole, former assistant professor and coordinator at Hawaiʻi Community College's I Ola Hāloa Hawaiʻi Life Styles Program and founder of Lonoa Honua. "Let's explore the spectrum of sound; there is even a breath of silence in this resounding, reverberating month."
Lonoa Honua and ʻOhana Waʻa are co-partners of the event. The ʻIkuwā Festival is made possible with the support of the Ama OluKai Foundation.
Free admission
The two-day event includes access to all festival activities, presentations and live performances in Moanahōkū Hall, ʻImiloa's Planetarium, exhibit hall and outdoor gardens. Select crafts, retail and food vendors will require payment onsite.