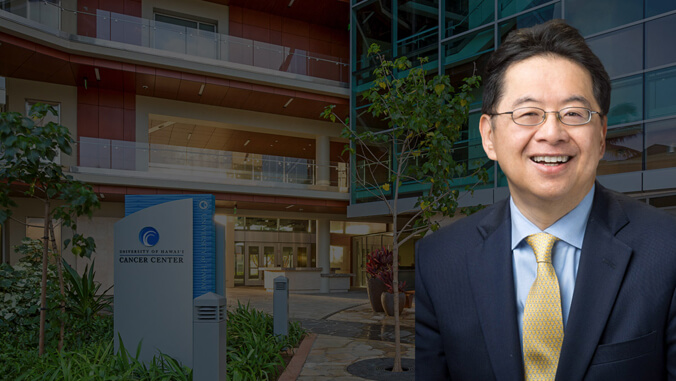 Naoto T. Ueno has been selected to be the next director of the University of Hawaiʻi Cancer Center. Uenoʻs appointment is pending the UH Board of Regents approval at the boardʻs October 20 meeting. His appointment would be effective December 12, 2022.
Ueno is currently the executive director of the Inflammatory Breast Cancer Research Program at the University of Texas MD Anderson Cancer Center, where he is also a tenured professor of medicine.
He has held various faculty and administrative positions there since 1996. Ueno has 15 years of leadership experience, and nearly 30 years of experience in research and education, particularly in stem cell transplant, gene therapy, targeted therapy and immunotherapy.
His research focus is inflammatory breast cancer (IBC)—the most lethal and aggressive form of breast cancer with a high metastasis (spread) rate. Working with his team members, he created a comprehensive research program and clinic devoted to IBC, which, under his leadership, emerged as the world's largest and most renowned for rare breast cancer.
Ueno is also widely regarded for his preclinical development and research efforts that translated into clinical trials. These valuable outputs will be of great benefit to the cancer center's clinical trials and community building efforts.
"Dr. Ueno possesses the leadership skills, background and experience to lead the UH Cancer Center for years to come, I am confident he will continue to advance the UH Cancer Center and their mission to reduce the burden of cancer in communities throughout Hawaiʻi," said UH Mānoa Provost Michael Bruno.
Ueno said his mission as director is to ensure that every patient with cancer lives to the fullest extent. He wishes to prevent cancer in Hawaiʻi and the Pacific through patient-centered cancer strategies, high-quality cancer care, research, prevention and education. In his previous roles, he helped build a team culture reflecting diversity and psychological safety.
"I am honored and excited for this tremendous opportunity to work with a new team and to build collaborative partnerships inside and outside of the UH Cancer Center," said Ueno. "Being raised in both Asia and the U.S., I have a long history of interest in Hawaiʻi's diverse culture and demographics. I truly believe the UH Cancer Center has a unique opportunity to build a world-class clinical and translational program that serves the community to reduce the suffering of cancer patients."
As a cancer survivor, Ueno brings more depth in his role as director, rendering the ability to empathize with cancer patients. He has also published two books about empowering patients in cancer care.
"Dr. Ueno's leadership experience, coupled with his ability to share common ground with cancer patients, make him uniquely qualified to improve cancer patient care in Hawaiʻi and the Pacific," said Bruno.
Ueno earned his MD from Wakayama Medical College in Japan. He went on to earn his PhD in cancer biology from The University of Texas Graduate School of Biomedical Sciences. He received postgraduate training through internships and fellowships with the United States Naval Hospital in Yokosuka, Kanagawa Japan, Montefiore University Hospital (internal medicine), the University of Pittsburgh Medical Center (internal medicine) and The University of Texas MD Anderson Cancer Center (medical oncology and stem cell transplantation).