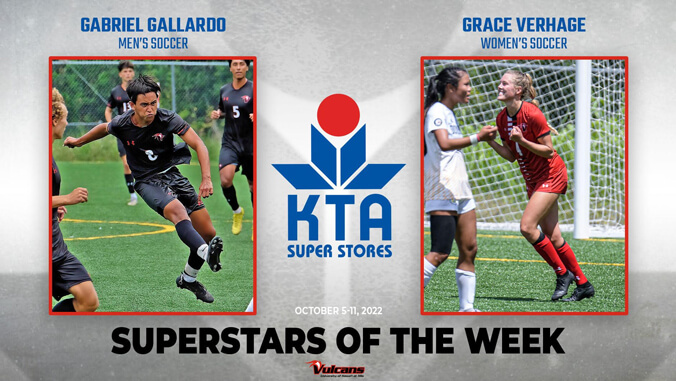 University of Hawaiʻi at Hilo men's soccer player Gabriel Gallardo and women's soccer player Grace VerHage earned KTA Super Stores Superstars of the Week honors for October 5–11.
Gallardo helped the Vulcans to a 1-0-1 unbeaten weekend with an assist on the lone score in a 1-1 draw with Chaminade University on October 7. He also had a goal of his own in a 3-2 win over Hawaiʻi Pacific University on October 9.
VerHage scored a pair of goals for her team-leading fifth and sixth scores of the season to lead the Vulcans past Hawaiʻi Pacific University in a 2-1 win on October 9.
The award names one male and one female Vulcan Athletics student-athlete each week, highlighting their accomplishments from the week prior.
For more, visit hiloathletics.com.