Award-winning composer Michael-Thomas Foumai was 13 when he first heard the Hawaiʻi Symphony Orchestra (HSO). The program featured music from Ang Lee's Crouching Tiger, Hidden Dragon. Foumai, now a music and creative media lecturer at the University of Hawaiʻi–West Oʻahu, recalled that he was "gob-smacked" to hear the score live with the orchestra.
Years after, as a student at UH Mānoa in 2007, it was his music on the HSO music stands.
"That was a life-changing experience that confirmed for me that I could do this, I can be an orchestra composer," Foumai said. "Composing wasn't just for the people who lived 300 years ago."
Related: World premiere of Raise Hawaiki, Hōkūleʻa symphony by award-winning UH composer, March 21, 2019

In 2017, Foumai won an American Society of Composers, Authors and Publishers Foundation young composer award, and in 2021, he was featured in HSO's Sheraton Starlight Series, showcasing a festival of his music throughout that summer at Waikīkī Shell. In a first for a Hawaiʻi composer, Foumai had a total of seven of his orchestral works and new arrangements of mele by Queen Liliʻuokalani performed.
So Foumai was "electrified" when he was named director of artistic engagement and HSO's first composer in residence in September.
"My roots are in this orchestra—there's no other like it. So I'm thrilled to join the HSO team," he said. "It's a dream come true."
Dream job
In his new posts, Foumai composes and arranges the music for the HapaSymphony series. The performances in the series join the symphony orchestra with celebrated local and Hawaiian artists and world-renowned conductors.
"This kind of collaboration brings a remarkable symphonic journey only found in Hawaiʻi," Foumai said. "When our orchestra performs with artists, the music for all the orchestra's instruments needs to be composed, and that's my job."
Foumai's second role is artistic outreach to the community. For each concert, he provides the audience with comprehensive program notes—the who, what, where and why, and how the music connects to people in Hawaiʻi. In addition, he designs and hosts the newly launched education series "Beyond the Music," presented as a comfortable, casual evening setting at the Moanalua Performing Arts Center.
"These performances provide keiki to kūpuna a 'Magic School Bus' approach to exploring how composers put together their great symphonies and the kaona (hidden messages) they contain," he said.
It's heartening that Michael will be leading the symphony's efforts to share the excitement of the music of our time with our community…
Jon Magnussen
UH West Oʻahu Professor Jon Magnussen called Foumai's appointment a wonderful development for the community.
"Michael is a keiki o ka ʻāina, a product of the UH System, and now he's giving back by teaching our music and creative media students at UH West Oʻahu," Magnussen said. "Symphonic music of our time is alive and well, and it's heartening that Michael will be leading the symphony's efforts to share the excitement of the music of our time with our community."
Ultimate storyteller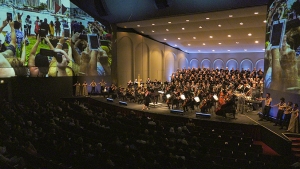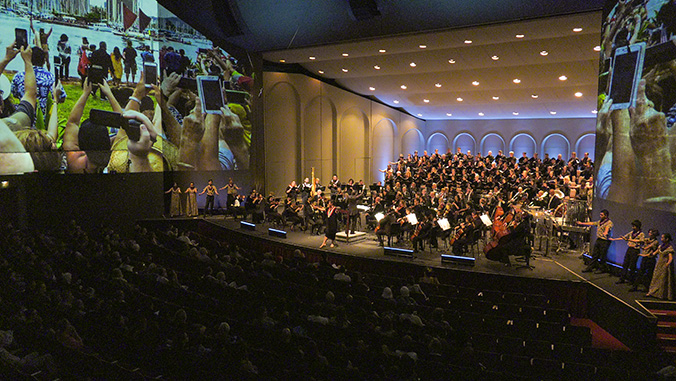 In 2019, Foumai's Raise Hawaiki, inspired by story of the voyaging canoe Hōkūleʻa, was performed by the HSO with the Oʻahu Choral society, choirs from UH Mānoa and other choral participation from Kapiʻolani Community College and UH West Oʻahu. Performers also joined from the Hawaiʻi Youth Opera Chorus and community choirs. They sang the words of Polynesian voyaging greats Eddie Aikau, Nainoa Thompson, Mau Piailug, Sam Kaʻai and Sam Low.
Foumai said the HSO is a "time machine" and the "ultimate storyteller."
"The stories of Hawaiʻi and Polynesia, the Pacific, the stories of us, must be continuously told and represented." Foumai said. "Music is a gateway, a compass to learn from our ancestors, a welcoming invitation to reflect who we are now, and a portal to explore pathways forward as a community in Hawaiʻi, as a nation and as the human race. Cultivating our home-grown composers/artists and engaging our community with the highest level of symphonic music and Pacific-focused programs is the legacy I hope to bring in my role at the symphony and to our ʻohana."
Read more in Ka Puna O Kaloʻi.
—By Zenaida Serrano Arvman