A University of Hawaiʻi at Mānoa professor has earned the highest honor in the fields of health and medicine. Chien-Wen Tseng of the John A. Burns School of Medicine (JABSOM) has been elected to the National Academy of Medicine (NAM). She is the third UH faculty member to be selected for NAM.
Tseng is one of 100 new members inducted into the academy in 2022 through a process that recognizes individuals who have made major contributions to the advancement of the medical sciences, health care and public health. Established in 1970 by the National Academy of Sciences, NAM addresses critical issues in health, science, medicine and related policy, and inspires positive actions across sectors.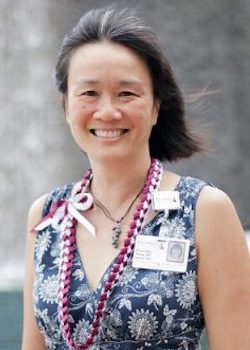 Tseng was the first physician from Hawaiʻi nominated to serve on the United States Preventive Services Task Force. The NAM cites Tseng for ensuring "medication access for 1 in 4 Americans unable to afford their prescriptions. Her work on Medicare Part D drug benefits supported 2020 legislation to redesign Part D to protect 48 million patients from losing coverage mid-year."
"The chance to serve on the U.S. Preventive Services Task Force, to work on America's national guidelines for preventive care, is one of those once-in-a-lifetime opportunities to serve," she said. "For me, it was really about people not being able to afford their medications or not being able to afford health care. We knew what was right. We knew the care people needed, it just came down to a dollar sign, and that wasn't right for me."
Joining JABSOM Dean Jerris Hedges, Tseng's election to NAM makes her the second active UH member in this exclusive club. Suzanne P. Murphy, retired UH Cancer Center researcher, was elected in 2010.
"It's tremendous recognition for the quality of faculty we have here at the John A. Burns School of Medicine," Hedges said. "It's also incredibly important for the people of Hawaiʻi because Dr. Chien-Wen Tseng impacted the lives of our population and the rest of the nation. The older we get, the more medications we may require, and so finding a way that we can provide the appropriate medications at a reasonable cost has been a big part of her work."
While Tseng feels privileged to join this exclusive club, she said getting here couldn't have happened without support from the community, co-workers and patients.
"As much of an incredible honor it is to become a member of the NAM, I've honestly been doing what I love and what's meaningful my entire life. Much of this honor goes to JABSOM Dean Hedges, my department, my co-faculty, residents who have supported me and taught me all these years, and the patients who make this all real," she said. "I also want to acknowledge the support of the HMSA chair of health services and quality research. They really protected my time to serve on the U.S. Preventive Services Task Force and work on Medicare part D drug benefits."