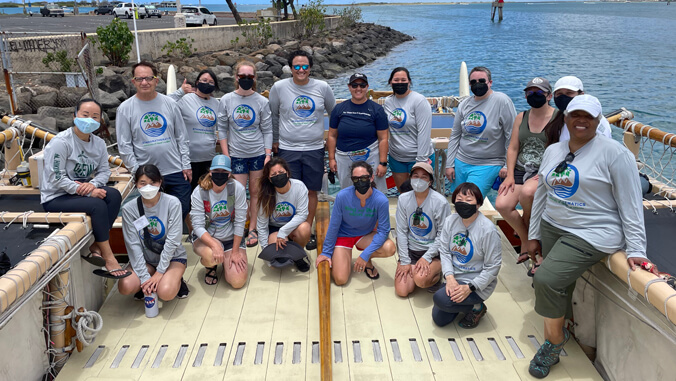 Sailing on the voyaging canoe Hōkūleʻa, doing service learning at Waikalua Loko Fishpond in Kāneʻohe and studying at Kaloko Tidepools in East Honolulu may sound like a fun, activity-packed summer, but it was actually much more than that for 11 educators in 2022.
They were part of the next cohort of teachers learning ethnomathematics, or real-world experiential problem solving imbued with a sense of culture and place. Lessons included trigonometric functions and angles of inclination aboard Hōkūleʻa, and studying mathematical modeling of Earth systems through service learning at the fishpond.
The University of Hawaiʻi at Mānoa College of Education began offering the first academic program in the world for ethnomathematics in 2018. Since then, 41 educators have obtained ethnomathematics graduate certificates, and 21 graduates have earned a curriculum studies, mathematics education master's degree. Educators who already hold a Hawaiʻi teaching license may add a field of licensure in ethnomathematics through the Hawaiʻi Teacher Standards Board.
"The ethnomathematics program is built upon the work of many others. While establishment of the world's first academic program in ethnomathematics is new, the concepts and central tenets have been around since the beginning of time to honor all people and places and to be a catalyst for positive change in the communities we're endeavoring to serve in Hawaiʻi and around the world," said Professor Linda Furuto. "Our vision is that every child will know who they are, where they come from and where they are going."
Upcoming information sessions
The College of Education is inviting more educators and the community to share in the ethnomathematics experiences and earn credentials through five virtual information sessions.
Join an ethnomathematics virtual information session:
Wednesday, November 2, 5–6 p.m. HST
Wednesday, November 16, 5–6 p.m. HST
Wednesday, November 30, 5–6 p.m. HST
Wednesday, January 11, 4–5 p.m. HST
Wednesday, January 25, 4–5 p.m. HST
Join the session a few minutes before the start time (the host will let you in).
For more information, see the College of Education ethnomathematics website or email coemath@hawaii.edu.
More than 60 educators have earned certificates or master's degrees since the first ethnomathematics academic program launched in 2018.