You probably don't think of the Women's Community Correctional Center in Kailua as a likely venue for a symphonic band concert. But for one night in October, the space behind bars was filled with the sounds of trumpets, drums, clarinets and more.
Students from the University of Hawaiʻi at Mānoa band program shared their gift of music with people incarcerated at the Women's Community Correctional Center in Kailua. More than 50 students in the wind ensemble, the program's premier band, performed a variety of selections from Hawaiʻi, the continental U.S. and Europe. Each piece in the hour-long program ended with rousing applause from the nearly 200 in the audience.
One of them was Tsofit Ohayon, who shared that she previously played in the band growing up.
"I think it's extremely soothing," Ohayon said. "That type of music is very good intellectually. It's very good for the soul. It's very good for the energy, especially in a place like this. Energy can be rough so it was very soothing and peaceful. It created a camaraderie amongst the people. They were very happy and excited about it. And more than anything, music is a universal language, and I think that was the key factor."
Director of Bands Jeffrey Boeckman said while these students probably never considered playing for an audience like this, the experience can change lives of all involved for the better.
"For our students, this is a really unique opportunity to perform for an audience that they might not think of in their ordinary life, a part of our community that we all too easily ignore," Boeckman said. "For this audience, we can offer them some entertainment, and hopefully the gift of music, of dignity and of humanity. And what a fun audience. They were easily the most enthusiastic crowd we've had in years!"
UH Mānoa student and clarinet player Michael Han added, "We were just so honored to play for communities who might not otherwise hear the wind ensemble and UH bands, and to share our talents with such an enthusiastic audience. I felt like not only the band connected amongst the members, but we also connected with the audience in a way that was unique and special to us."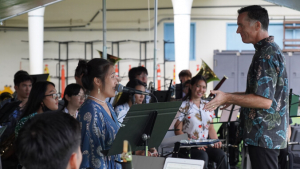 Nadia Pagdilao, a UH Mānoa student and singer, received perhaps the largest ovation of the evening as she sang alongside the band for several pieces, including Kaulana Nā Pua, Kamehameha Waltz, Hawaiʻi Aloha and Aloha ʻOe. The band concluded its performance with a popular favorite, Hawaiʻi Five-0.
This performance at the Women's Community Correctional Center followed an earlier performance in October at the Waiawa Correctional Facility.
—By Marc Arakaki