The University of Hawaiʻi at Mānoa Valorant esports team won the program's first international title, less than a year after it captured the program's first collegiate tournament win.
UH Mānoa won the Association of Pacific Rim Universities (APRU) Rampage Invitational Tournament in August 2022, taking down seven teams from the Asia-Pacific region, including the University of California, Los Angeles; Nanyang Technological University (Singapore); National University of Singapore; Tecnológico de Monterrey (Mexico); University of British Columbia (Canada); University of Hong Kong SPACE; and Universidad de Chile. Valorant is a multiplayer first-person shooting game, and players are assigned to either attacking or defending teams. With the win, UH Mānoa took home a $1,000 prize, a first place trophy and Adidas team jerseys valued up to $2,000.
"The APRU tournament was a great way to start the semester and a really fun event with the team," said Tate Tamaye, a UH Mānoa Valorant team member and computer science student. "The tourney allowed us to play against teams that I haven't played against before, which made it very interesting. I hope that in the future, they will be able to invite more teams, and have a larger tournament."
In 2021, UH Mānoa's Valorant team captured the Collegiate Valorant Fall Brawl (mainly consisting of teams from the U.S.) for the program's first collegiate tournament win.
The APRU esports tournament was part of the APRU MetaGame Conference, which was presented virtually from Hong Kong. It brought together academics and industry experts to discuss policies, challenges and opportunities on the development of esports in higher education. UH Mānoa was selected to become part of APRU earlier this year, joining approximately 60 universities from across the Pacific region, including North America, Asia, Oceania and South America.
"Congratulations to the students of the University of Hawaiʻi at Mānoa who dominated this tournament among some giants in the collegiate scene," said Jackie Wong, APRU director of network management. "We have been working with student esports leaders from many of the APRU member universities over the past year to highlight their expertise and knowledge on everything from sponsorship pitching to diversity, equity and inclusion, and we are happy to include this competition to also shine a light on their gaming skills and reinforce our connections across the Pacific Rim in Asia, North America and Latin America."
APRU digital arts contest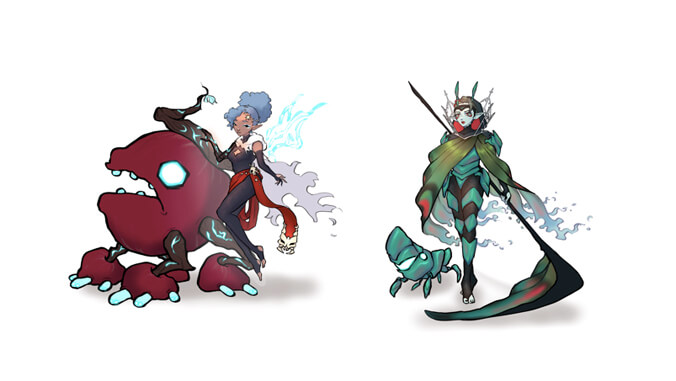 UH Mānoa student and esports team member Jazmin Horio won third place in the APRU Digital Art Contest called "Level-Up Our World." Students were tasked with creating video game characters to shape an equitable, sustainable and inclusive world. Horio's piece, "Reseen," depicts two fairy warriors who specialize in recycling old material. One character uses necromancy to repurpose rotten or discarded fruit. The other character is her mentor and an elder fairy who never ended up sprouting wings. Despite this, Horio said she is a revered fighter and similarly gives life to scrapped chrysalis husks to aid her in battle.
Students across the Asia-Pacific region submitted their original artwork of a cast of characters or game bosses which reflect students' visions to shape an equitable, sustainable and inclusive world. Horio won a $250 prize for her third place finish.
"It feels great to win third place and have my work recognized," Horio said. "Overall, I had a great time working on the art piece for the APRU competition. It provided me with a lot of inspiration and motivation during a time where it was very difficult for me to draw. I feel more connected to the global community of esports-interested students, and it encourages me to pursue my goals within the industry. I hope to participate in more APRU events again in the future."
Vote for UH!
Vote now for UH Mānoa's esports program!
Voting continues until November 30 for the best collegiate esports program of the year on the Esports Awards website. UH Mānoa's esports program has been nominated for the second consecutive year, and team leader Nyle Sky Kauweloa has been nominated for the collegiate esports ambassador of the year award.
Vote now for UH Mānoa's esports program!
Visit the UH esports team's Twitter and Discord pages. More stories on UH's esports program.
—By Marc Arakaki