The University of Hawaiʻi at Mānoa Shidler College of Business' annual scholarship luncheon event made its in-person return at the Royal Hawaiian Hotel on November 7. The event brought together student recipients and scholarship donors. It gave students the opportunity to meet and thank the donors, and share how their gifts impacted the students' education.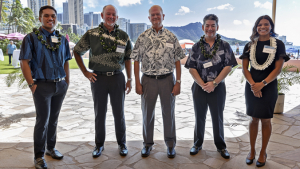 "Through the generosity and backing of our alumni, friends and business community, we were able to award 315 scholarships totaling nearly $1.1 million to our students," Shidler College of Business Dean Vance Roley said. "As our students prepare to be the next generation of Hawaiʻi business leaders, these scholarships remove some of the financial pressure and allow students to fully immerse themselves in their academic and leadership activities."
This year's event featured alumnus and scholarship donor Matt Takamine, executive managing director and captive practice leader at Brown and Brown, as the keynote speaker. In 2019, Takamine and his wife, Erin, established a $50,000 endowed scholarship for undergraduate students from public high schools in Hawaiʻi who are pursuing a business degree in accounting.
"As a past scholarship recipient, I was able to experience firsthand how great of an impact a scholarship can make in one's life," Matt Takamine said. "It allowed me to travel outside of the U.S. through the Asia Field Study Program, which was an unforgettable experience. To carry on the tradition of giving back, I hope that my scholarship, along with many others, will help students have a premier college experience."
The Shidler Alumni Association served as the title sponsor, and Hawaii Business Magazine returned as the media sponsor for its fourth year.
For a complete list of scholarship awards and recipients, visit Shidler's website.