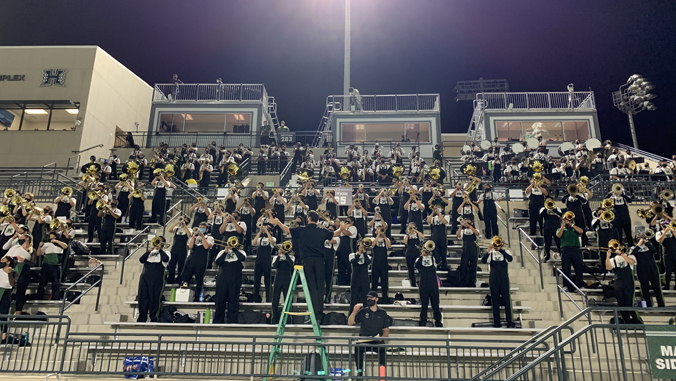 After a two-year hiatus due to the COVID-19 pandemic, the University of Hawaiʻi Bands at UH Mānoa hosted the 41st Rainbow Invitational for local high school marching bands on November 10, at the Clarence T.C. Ching Athletics Complex.
Rainbow Invitational
Clarence T.C. Ching Athletics Complex
November 10
5:30 p.m.
Admission: $10 general, $8 students
The event has been held annually since 1979 at Aloha Stadium. The marching band festival was featured at the UH Mānoa campus.
"Our UH Band ʻohana is thrilled to bring back together the hundreds of music students around our state for this event," said UH Director of Bands Jeffrey Boeckman. "The vast majority of our UH Band members come from these schools. It is a way for us to give back and at the same time, hopefully inspire everyone as they get a chance to see each other's shows."
The UH Rainbow Warrior Marching Band invites clinician experts to provide feedback to the bands and their directors that can be used to make changes and improvements to the schools' shows.
This year, composer and marching band arranger Todd Zimbelman, Michael McIntosh (percussion) and Gregory Mar (colorguard) will provide the comments and notes for the participating bands.
A total of 15 high school bands will perform at the Rainbow Invitational.
Participating schools:
Aiea/Radford
Campbell
Castle

ʻIolani

Kailua
Kaiser
Kalani
Kamehameha
Kapolei
Leilehua
Mililani
Moanalua
Pearl City
Punahou
Roosevelt