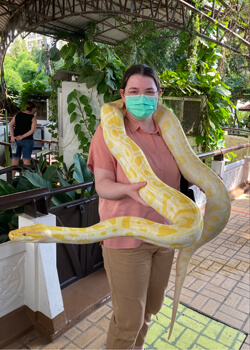 Two University of Hawaiʻi at Mānoa doctoral candidates earned a 2022 Fulbright-Hays Doctoral Dissertation Research Abroad award, while three past recipients are conducting research that was affected by the pandemic. The five awardees received funding to cover expenses, such as travel, living costs and research activities, totaling more than $222,000 combined.
The Fulbright-Hays Doctoral Dissertation Research Abroad program provides opportunities for doctoral candidates to conduct dissertation research abroad in modern foreign languages and area studies.
2022 recipients
Hosub Hwang is a third-year PhD candidate in the Department of History studying modern Korean history under Associate Professor Cheehyung Harrison Kim. Hwang's one-year research trip to South Korea will begin in March 2023. Hwang intends on writing a historical ethnography on the use of urban spaces by participants and activists involved in anti-authoritarian social movements in South Korea in the 1970s–80s.
"I want to understand how people of that period were shaped by their everyday experiences in the cityscape surrounding them, and how they in turn used these spaces, such as cafes or pubs or in sweatshops," Hwang said. "I find it especially interesting as this period is when you have the expansion of these social movement networks taking shape on the national level."
Caroline Baicy completed all required coursework and will now focus on a dissertation in the Department of History. Baicy will analyze how metropolitan spaces, predominantly in North America and Europe, exhibited cultures from the Cordillera mountain range in the island of Luzon in the Philippines. Baicy's eight-month research trip to Spain and the Philippines will begin in February 2023. Associate Professor Vina Lanzona is Baicy's advisor and dissertation committee chair.
"Through my research and time spent in archives in Spain and the Philippines, I hope to gain an understanding of how these exhibitions developed through the various perspectives including the performers, Filipinos who are not from the region, colonial administrators, and people who experienced these expositions at the turn of the century," Baicy said.
2021 recipients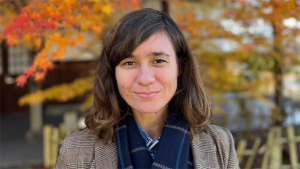 Erin McConkey is a fourth-year PhD candidate in the Department of Anthropology studying the social construction of bodies and disease through the cultural, political and economic processes surrounding snakebite envenomation (exposure to toxins resulting from a bite) in Thailand. McConkey's one year research trip to Chiang Mai began in June 2022.
"This project is important because a snakebite defies conventional medical categories, which complicates its treatment," McConkey said. "I work with doctors, nurses, veterinarians, scientists, snake handlers and snakes themselves to understand how they make sense of their experiences with snakebite and antivenom, the life-saving medication which treats it. With this research, I hope to contextualize discrepancies in the medico-scientific imagining of snakebite."
Tanya Barnett is a fifth-year doctoral candidate of modern Japanese literature in the Department of East Asian Languages and Literatures. Barnett's research examines the connection between the genre of adventure fiction and Japanese literary production in the 1910s–20s, with a specific focus on queer narratives of adventure, exploration and discovery that take place in spaces interior to the nation-state of Japan.
"Dissertation fellowships in general are incredibly competitive and it's such an arduous application process, so to receive the award feels like a validation of my dissertation research," Barnett said. "It's a great feeling to know that I have the resources necessary to complete archival research for my project."
2020 recipient
Foley Pfalzgraf is a fifth-year PhD candidate in the Department of Geography and Environment. Pfalzgraf will partner with the University of the South Pacific, Emalus Campus in Vanuatu in spring 2023 to conduct mixed-methods research into the impacts of nature-based solutions on communities across the archipelago.
"As nature-based solutions continue to expand globally and in Vanuatu, there is an impetus to consider the extent to which these programs provide environmental and social justice to communities, while also examining alternative adaptation and mitigation activities pursued by Vanuatu's communities and government," Pfalzgraf said.
Learn more about the program
UH Mānoa's Graduate Division will host an information session for students interested in the program on November 17, 3:15–4:15 p.m. via Zoom. Speakers will include McConkey, Barnett and Fellowships, Scholarships and Professional Development Coordinator Kristen Connors.
For more information on the Fulbright-Hays Doctoral Dissertation Research Abroad program, visit the U.S. Department of Education website.
—By Marc Arakaki