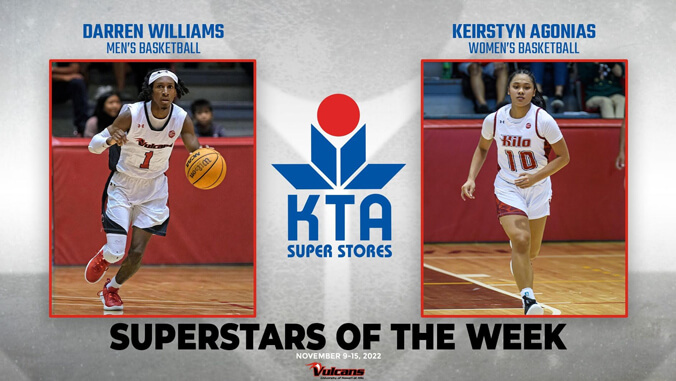 University of Hawaiʻi at Hilo women's basketball player Keristyn Agonias and men's basketball player Darren Williams earned KTA Super Stores Superstars of the Week honors for November 9–15.
Agonias, a freshman, was an efficient 8 of 10 from the field for 19 points with seven rebounds in 29 minutes off the bench in her first collegiate game on November 13 against Montana State University Billings.
Williams, a senior, dropped more than 20 points in each of the Vulcans' two season-opening wins. He scored a team-leading 27 points against Southwestern Assemblies of God University American Indian College (SAGU AIC) on November 11, and put in 22 points to secure an overtime-victory over University of Alaska Anchorage on November 14. Against SAGU AIC, Williams was also one assist shy of a double-double.
The award names one male and one female Vulcans student-athlete each week, highlighting their accomplishments from the prior week.
For more, visit hiloathletics.com.