Robert "Bob" A. Grace, a dedicated engineering professor who served the University of Hawaiʻi at Mānoa for 47 years, has died at the age of 84. Grace was known as an influential educator, mentor and innovator, to those who knew him best.
Grace's first daughter, Aimee, the director of strategic health initiatives for UH, where she directs the UHealthy Hawaiʻi initiative, said, "My beloved Dad inspired us with his intellect and rigor, but, most importantly, with his deep heart, love of teaching, simplicity and genuineness. He is sorely missed, but I take comfort knowing that he has a living legacy through thousands of former students, colleagues, family members and impacted community members."
My beloved Dad inspired us with his intellect and rigor, but, most importantly, with his deep heart, love of teaching, simplicity and genuineness.
— Aimee Grace
Robert Grace grew up in southwestern Ontario in Canada. After earning his bachelor's degree in civil engineering from the University of Western Ontario in 1960, he went on to the Massachusetts Institute of Technology for both his master's (1962) and PhD (1966). He was hired by the UH Mānoa College of Engineering, shortly after, in September 1966.
He started off teaching three civil engineering courses per semester, focused on statics, dynamics and fluid mechanics fundamentals. Grace then introduced and taught an undergraduate course in applied probability and statistics, and a graduate course on the marine disposal of wastewaters.
Launching ocean engineering at Mānoa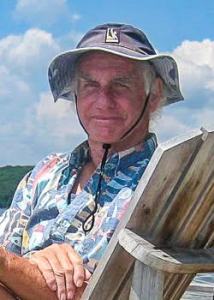 Grace also joined a small group of professors to develop an ocean engineering program (OEP) within the College of Engineering. Their goal was to expand a modest UH building near Kewalo Basin and install major research equipment, such as a physical model basin, "deep tank" and wave flume. Eventually, OEP became the Department of Ocean Engineering.
Grace conducted many research projects in the ocean with civil and ocean engineering students, logging about 3,000 individual scuba dives at water depths ranging from 15–50 feet. He concentrated on wave forces, the objects involved being seabed-based spheres, pipes, cubes and artificial reef modules. Grace published a variety of technical papers, and wrote two popular books on a special type of submarine pipeline called outfalls. His expertise was also sought after by the State of Hawaiʻi and the City and County of Honolulu.
"Bob Grace was the quintessential educator, mentor and innovator, as well as a consummate professional during his stellar 45 plus-year career at the UH Mānoa College of Engineering," said UH Vice President for Research and Innovation Vassilis L. Syrmos. "Students fortunate to have had him became better engineers, while those of us fortunate to be on the faculty with him—became better teachers as a result of his humility, generosity and intellect. He will be greatly missed."
International engineering work
Grace worked internationally, spending months-long intervals working in France, (government, offshore drilling contractor), Australia (government), New Zealand (University of Canterbury) and South Africa (University of Cape Town). He also spent two and a half years at Oregon State University.
"Dr. Grace was someone who believed in preserving and protecting the quality and expectations of what it meant to be an engineer," UH Mānoa College of Engineering Dean Brennon Morioka said. "While he was considered one of the toughest professors in the college, he was also one of the most respected and more importantly one of the most appreciated by his students. Because of Bob Grace, we have some amazing graduates and engineers right here in Hawaiʻi."
Grace's legacy
He retired from the university in 2013, and it was discovered then that Grace developed a form of Parkinson's disease. Grace received treatment both in Hawaiʻi and in Sacramento, California, where his second daughter is a general surgeon.
Shortly after his retirement, former students and friends created the Professor Robert Grace Endowment for Civil and Environmental Engineering. This endowed fund will support the department by helping to pay for operations and equipment expenses, including costs for all important items like equipment repair and maintenance fees.
Bob is survived by his wife of 40 years, Mary Ellen Nordyke-Grace; five children: Aimee (Joe Weismantel), Nalani (Marc Birnkammer), Cameron (Liz Kreiner Grace), Trevor (Jocelyn Ko), and Noelle (Daniel Powell); four grandchildren (Malia Weismantel, Gabriel Birnkammer, Riley Grace, and Oliver Grace); six siblings in Canada (D. Michael Grace, A.E. Noelle Grace, Archie Grace, Mary Finley, Gillian Graham and Justice A. Duncan Grace), as well as numerous extended family members. He was predeceased by his parents as well as brother John R. Grace of British Columbia, Canada.
Memorial service
Join the family at a memorial service to honor the life of Professor Robert A. Grace on Sunday, January 1, 2023, at 3:30 p.m. at the Central Union Church main sanctuary, 1660 Beretania Street, Honolulu, Hawaiʻi 96826.
In lieu of flowers, donations in the memory of Professor Grace may be given online to the UH Foundation Professor Robert Grace Endowment for Civil and Environmental Engineering or via mail to UH Foundation, ℅ Terri Alvaro, Director of Donor Relations, 1314 South King Street, Suite B, Honolulu, Hawaiʻi 96814; or to the YMCA of Honolulu, designated to Camp Erdman online or via mail to Kerri Van Duyne, YMCA of Honolulu, 1441 Pali Highway, Honolulu, Hawaiʻi 96813.