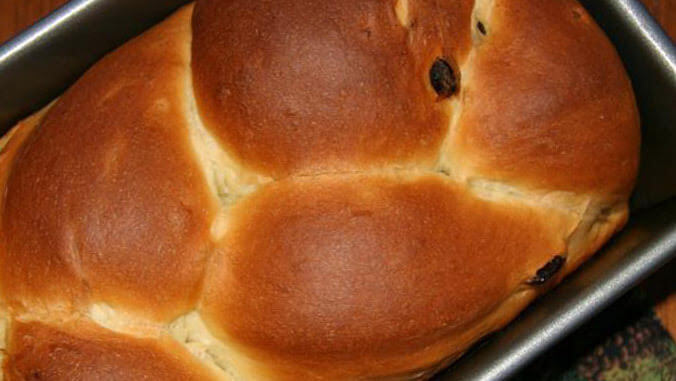 The holiday season is here, and UH News is asking members of the University of Hawaiʻi ʻohana to share their favorite recipes. The hope is these recipes and the short stories that accompany them will give everyone some recipe ideas for the holidays.
UH Hilo Director of Research & Community Partnerships Sharon Ziegler-Chong shared her family's recipe for houska or Bohemian braided egg bread.
"My grandfather's family came to the plains of Nebraska from Czechoslovakia (now the Czech Republic). This recipe is a favorite of my family at Christmas," Ziegler-Chong said. "It is best toasted with butter and enjoyed with coffee or tea, family, laughter and a fire."
See more UH-mazing holiday recipes
Although the thought of baking bread may seem daunting to some, she said it is not that hard.
"Kids—old and young—love playing with dough," she said.
Houska (Bohemian braided egg bread)
Ingredients:
1 cup white raisins
1 cup dark raisins
1/4 cup brandy or juice
1 package yeast + 1 teaspoon sugar + 1/4 c warm water
2 cups milk, scalded
1 cup butter
2/3 cup sugar
1 1/2 teaspoon salt
2 eggs
1 teaspoon lemon rind
1/2 cup slivered almonds
6–7 cups flour
Directions:
Soak raisins in brandy or juice for 2–3 hours. OR bring to boil in juice, cover and cool.
Mix the yeast with 1 tsp. sugar and 1/4 c water and let sit for 5 minutes.
Scald milk. Pour into a big mixing bowl (everything will end up in here, so make it a big bowl.)
Melt butter in the warm milk. Stir in sugar, salt and lemon rind. Stir in yeast mixture.
Beat the eggs in a small bowl and add to the mixture.
Stir in three cups of flour and stir vigorously (this is your first workout) until when you lift the spoon out of the batter it is kind of gloopy…i.e., the gluten is forming.
Stir in the almonds and then add the remaining flour a cup at a time to form a soft dough. By the end, it's easier to turn it out into a floured surface.
Knead for 12–15 minutes (this is your second workout). Add flour sparingly, if it's sticky.
Place in a greased bowl (I just add a bit of oil into the used mixing bowl, put the dough in, then flip it over)
Cover and put in a warm place to rise to double. Go read a good book.
Punch down the dough (great chore for small kids) and let rest for 10 minutes.
Divide dough into three equal parts. Each third will be made into a loaf.
This is braided bread. Taking one of the thirds, divide it into three parts and make into 10" ropes of dough. Pinch the three ends together and then braid them together.
Pinch the other ends together, then put this into a greased regular size loaf pan, tucking the ends in.
(You can get much fancier with the braiding. Some people don't use loaf pans, and instead create a larger braided loaf as a stand-alone bread.)
Let rise until doubled (read another two chapters of that book).
Bake at 350 degrees for 45 minutes. Should be medium golden brown.
Brush with butter when you take it out.
Enjoy!