Born and raised in Maunalua on the island of Oʻahu, Tehani Malterre attended Kamehameha Schools and began to reconnect with Hawaiian culture and with ʻāina (land, that which nourishes). With a passion for protecting the environment in Hawaiʻi, she learned during her senior year in high school that the University of Hawaiʻi at Mānoa School of Ocean and Earth Science and Technology (SOEST) offers a program that was a great fit for her interests—the Global Environmental Science (GES) bachelor's degree.
Now in her senior year of the GES program, Malterre said, "I enjoy being able to learn the science behind the environmental issues that affect us here in Hawaiʻi while also being able to remain connected with my home."
Malterre is enrolled in the bachelor's and master's pathway program wherein she is pursuing a master's of science in finance while finishing her GES degree.
"Understanding the financial implications of climate change while also having a background in environmental science is very important for understanding the human dimensions of planning for and adapting to our future," said Malterre. "In addition to increasing my own financial literacy and understanding of the systems that we live in, this degree can be applied to a variety of important issues such as understanding the costs to coastal infrastructure as a result of climate change, helping local businesses to protect and increase island food sustainability, or even working with community organizations to finance restoration and conservation projects."
Environmental science, food security and local business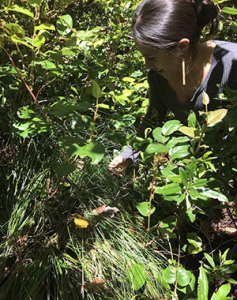 For her senior thesis in the GES program, Malterre is working with Henrietta Dulai, professor in SOEST's Department of Earth Sciences. They are looking at water quality at Sumida Farm, which is a popular watercress farm in ʻAiea.. The farm is primarily fed through freshwater springs and it is unique because it is located in a highly urbanized setting. Previous studies there showed that despite the farm being surrounded by urban development, the springs provide very clean water, free of pollutants usually expected from urban runoff.
Malterre's study is aiming to confirm that the surrounding urbanization has little effect on the farm by analyzing water samples collected over a time span of a year. She will also compare these findings to rainfall patterns to see if precipitation is contributing to any runoff that can affect the water quality. So far results show excellent conditions, confirming that the availability of clean, fresh water is the basis of the success of the farm that has been operating over many decades.
"Something that really interests me in this research is that it provides the opportunity to better understand potential threats that are affecting our food sources and food sustainability, something that is incredibly important in Hawaiʻi and that we should be trying to expand," said Malterre. "This project also has the potential to help a local business, which is something I am excited about."
What's next?
Malterre will be graduating with a bachelor's degree from GES at the end of spring 2023. After that, she is on track to graduate with a master's degree in finance in spring 2024. She is interested in continuing with school to study ecosystems ecology or conservation biology and possibly pursue a doctoral degree.
"Ultimately I want to be able to live and work in Hawaiʻi and contribute to the conservation and preservation of our natural resources, culture, and native species, especially in the face of climate change," said Malterre. "I also want to be able to give back to the land and communities that raised me."