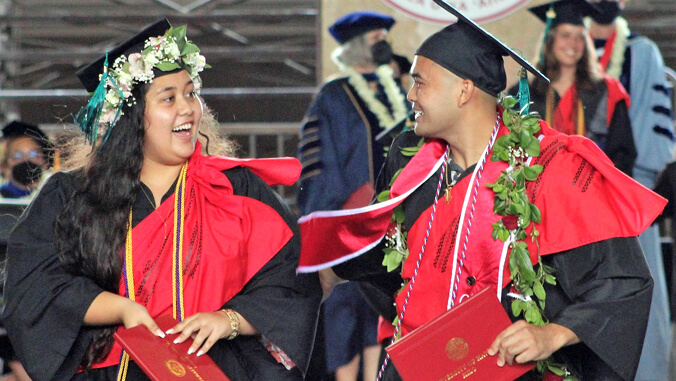 Three University of Hawaiʻi campuses, UH West Oʻahu, UH Hilo and UH Mānoa, will celebrate the accomplishments of their graduates with fall commencement.
UH West
Oʻahu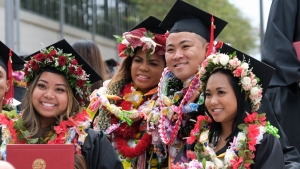 The UH West Oʻahu fall 2022 commencement on December 10 features two student speakers—Abbie Reed representing creative media and Nyle Ocariza, a business administration candidate.
Starting at 9 a.m., the ceremony is open to registered, ticketed guests, and celebrates applied science, business administration, creative media, cybersecurity, education, humanities, natural science, public administration and social sciences candidates. Candidates are allowed six guests each.
The ceremony will also be livestreamed starting at 9 a.m. For more information, see the UH West Oʻahu commencement website.
For more information, see the UH West Oʻahu commencement website.
UH Hilo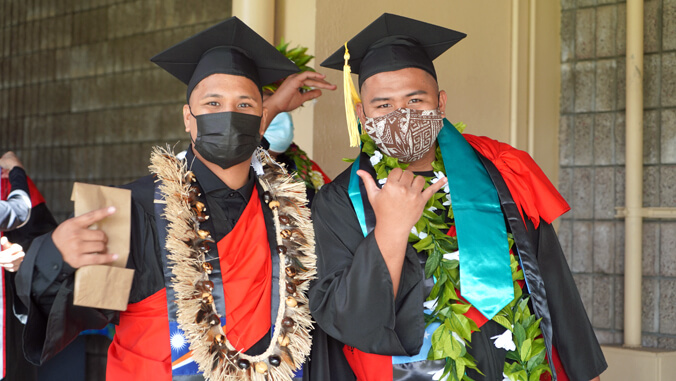 UH Hilo will hold two commencement celebrations this fall.
Special Alumni Commencement Ceremony on Friday, December 16, 4 p.m. at Vulcan Gym for the campus' spring, summer and fall Class of 2020 and Class of 2021 graduates. Approximately 89 students are expected to participate. Jessica Valdez serves as the student speaker at the alumni ceremony. Valdez graduated in fall 2020 with a bachelor of arts degree in philosophy, a bachelor of arts degree in psychology and a subject certificate in pre-law with highest honors. Livestream available.
The commencement ceremony for fall 2022 graduates will be on Saturday, December 17, 9 a.m. at Vulcan Gym. Approximately 189 students have petitioned for degree and/or certificates and for various post-graduate credentials. Harris Ubedei represents the Class of 2022 as its student speaker. Ubedei is a proud Palauan national majoring in administration of justice with an interdisciplinary certificate in pre-law. Livestream available.
Both ceremonies are limited to invited guests only. Ceremonies will be livestreamed and the link will be posted at UH Hilo's commencement website prior to the events.
UH Mānoa
UH Mānoa will hold a combined undergraduate and advanced degree commencement ceremony on Saturday, December 17 at 9 a.m. in the SimpliFi Arena at the Stan Sheriff Center. Dannielle A. Farrall, who is receiving her master's degree in linguistics, is the student speaker.
The doors will open to the public at 7:45 a.m. All seating is open to the public—no tickets or reservations are required. Please go to the guest information page for more information.
The ceremony will be livestreamed on the day of the event and an edited version will be posted on the commencement website in the weeks following the ceremony.
For more information, go to the UH Mānoa commencement website.