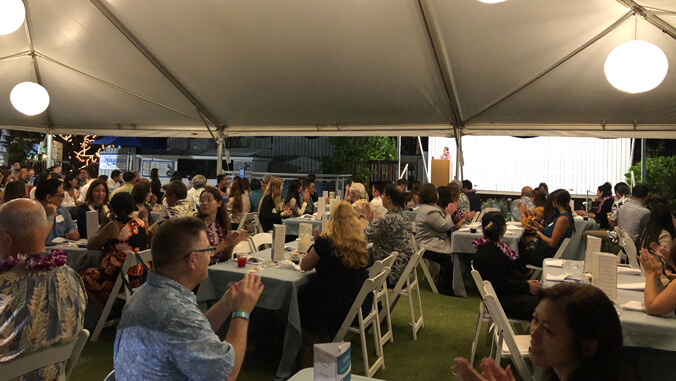 Students from University of Hawaiʻi at Mānoa's School of Travel Industry Management (TIM School) hosted a networking showcase that brought together professionals and students to foster connections within the hospitality and tourism industries.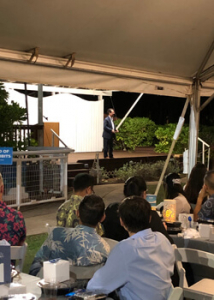 More than 140 people attended the 2022 Nā Kukui Netlinks event on November 30 at the Waikīkī Aquarium. Now in its 27th year, the event was themed "Make a Big Splash! Developing your Personal Brand."
The event first started in 1995 and, in addition to providing students with a venue where they can grow their professional networks, it also gives valuable practical experience. As part of the TIM 316 Special Events Management course, the students planned, organized and executed the evening from start to finish with the support of the TIM Alumni Association, modeling the same process industry professionals use to host events.
This year's Na Kukui student committee was made up of 11 TIM students. They were Alicia Tobey, Marie Vasquez, Sheree Caragdag, Megan Kaneshiro, Tori Ono, Mika Sasaki, Samantha Dougher, Dominique Smith, Aya Sasaki, Princeton Wong and Neo Yim. The students worked for several months on various subcommittees, including logistics, industry, marketing, programming and students.
Award-winning influencer
This year's event featured keynote speaker and TIM School alumnus Kevin Iwamoto, BBA '77, who is chief customer officer of Bizly, Inc. TIM School and Shidler College of Business alumna Candes Meijide Gentry, BS '98, MBA '04, emceed the event. Shidler college Dean Vance Roley provided a welcome and update on the TIM School.
Iwamoto is an award-winning speaker, industry influencer, author, educator and subject-matter expert consultant in personal branding. He received the 2015 Travel Weekly Gold Megellan Award for Best Overall Industry Blog, the 2016 MPI Rise Award from Meeting Professionals International for meetings industry leadership, and in 2014 he received a rare honor from Global Business Travel Association with a designation as an industry icon. Throughout his career, Iwamoto has been included in numerous industry Topmost Influential Executive lists and has published two books.
​"A personal brand says a lot about who you are and how you conduct business," he said. "It reflects your cherished beliefs and values. It demonstrates your ethics to colleagues, employees, business partners and customers."
Networking for all
The event not only left a lasting impression on students but it was also beneficial to industry professionals and event mentors.
"I am so honored to have participated in several Nā Kukui networking events in the past years representing Expedia Group," said Malia Campbell, senior account manager of Expedia Group Hawaiʻi. "Connecting with industry professionals and those that are passionate about the hospitality industry is the best way to kick-start your career. You never know how far a short interaction with someone will take you in your career!"
—By Dani Douglass