A documentary featuring two University of Hawaiʻi–West Oʻahu food sustainability champions and their work with the NiU NOW! movement has won awards at the Jackson Wild Summit in Austria and the Hawaiʻi International Film Festival (HIFF).
The 15-minute short film Kumu Niu follows Manulani Aluli Meyer, Konohiki (head) of Kūlana o Kapole​i, and Indrajit Gunasekara, a financial aid officer, as they work with their community to plant a new grove of niu (coconut) and ʻulu (breadfruit) on the UH West Oʻahu campus.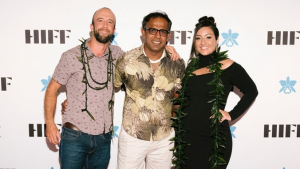 Kumu Niu earned a Jackson Wild Media Award in the Human Planet—Short Form category, in September. The film received HIFF's Deep Blue Environmental Shorts Award in November. In addition, the film was selected to be featured on Hawaiian Airlines' in-flight programming from December 2022 through March 2023 as part of a partnership between HIFF and the airlines.
"This lovingly created documentary is connected to our friendship with Dr. Heather McMillen of Hawaiʻi's Urban Forestry Program," said Meyer. "Director Alex Cantatore was inspired to bring forth this controversial subject because it is part of a larger world story of cultural resilience and Indigenous acumen dedicated to loving land and serving people. It's time to pay attention."
'Tree Stories' part of bigger story
Gunasekara and Meyer established the Uluniu Project—an effort​ to​ engage in the practices of​ food security, cultural dissemination of knowledge, and the growing of student leadership through aloha ʻāina (love of the land)—at the campus and expanded it in 2021 with 264 seedlings in its Niu Nursery​.
"We had an opportunity to tell a small portion of a story of our tree of life, the coconut tree, that continues to inspire us in this ancient Indigenous relationship that stretches back beyond millennials, as well as guides us into the future during a time when we are greatly challenged with the issues of food security and the change of climate," Gunasekara said.
The documentary was directed by Cantatore of QuickActCasual Productions for the National Association of State Foresters (NASF) as part of its "Tree Stories" series, a collection of short films that illustrates the importance of the different bonds that people enjoy with trees.
"I am overjoyed at the reception of Kumu Niu, especially at HIFF on Oʻahu, the home of the NiU NOW! movement," said Cantatore. "The film is a celebration of their crucial work for food sovereignty and it means the world to me to see those efforts elevated in such a powerful way."
Since its release in April 2022, Kumu Niu has been screened at various other film festivals, including San Diego ShortsFest, Awareness Film Festival, BendFilm Festival and Red Nation International Film Festival.
For more, go to Ka Puna O Kaloʻi.
—By Zenaida Serrano Arvman