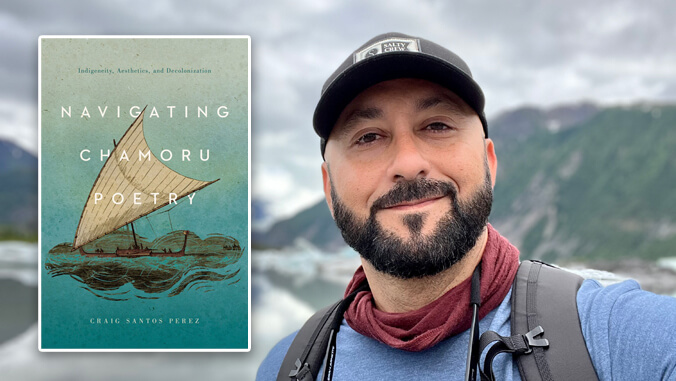 Craig Santos Perez' latest book illuminates CHamoru (Indigenous people of the Mariana Islands) values embedded in poetry as part of a continuum of resistance to colonization and global imperialism. Perez, an associate professor of English at the University of Hawaiʻi at Mānoa, reveals how generations of CHamoru poets intertwined values of Inafa'maolek (interdependence), chenchule' (reciprocity), mamåhlao (shame) and respetu (respect) in addressing the annexation, militarization and political loss resulting from colonial expansion on Guam.
On January 6 at its annual convention in San Francisco, the Modern Language Association (MLA) will award Perez its fourth MLA Prize for Studies in Native American Literatures, Cultures and Languages, for his book, Navigating CHamoru Poetry: Indigeneity, Aesthetics, and Decolonization. The award is one of nineteen being presented.
"I feel honored and humbled that my book, which is about the Indigenous poetry from a very small island, has received this prestigious award from the largest humanities association in the United States," said Perez.
Perez, an Indigenous CHamoru, pens award-winning poems that express his fear and frustration from global issues such as climate change, toxic waste and human violence. The main mission of his latest published work is to highlight the beauty, diversity and depth of poetry by CHamoru authors from his homeland of Guam. His book explores Indigenous local and transnational aesthetics and provides a decolonial path that centers movement and Indigenous epistemologies in dialogue with other Pacific and Indigenous cultures.
Perez is currently working on his next monograph, "Pacific Islander Ecopoetry: Indigenous Knowledge, Environmental Justice, and Climate Change," set to be published by the University of Arizona Press.