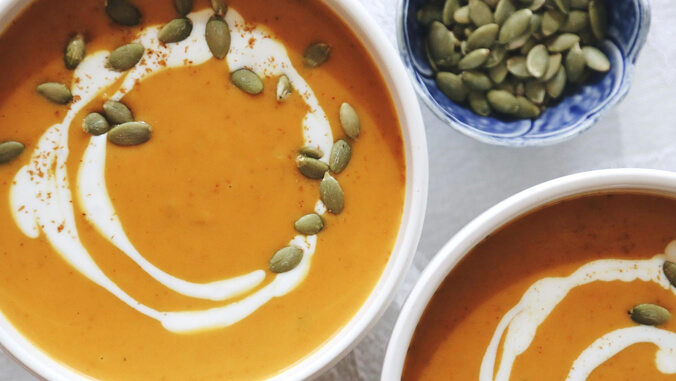 The holiday season is here, and UH News is asking members of the UH ʻohana to share their favorite recipes. The hope is these recipes and the short stories that accompany them will give everyone some recipe ideas for the holidays.
University of Hawaiʻi at Mānoa student Lauren Horita submitted her nana's pumpkin soup recipe.
"Pumpkin soup has now become a hallmark of the holiday season, as fall comes and it starts to get colder with the winter months," she said. "In Hawaiʻi we're blessed to have beautiful neutral weather in the winter. This soup is delicious, prepared warm on a cold and windy night, or refreshing when the sun is beaming with its warmth throughout the day."
Horita's favorite recipes are ones that are customizable.
"This pumpkin soup can be a base to where you want to start, and you can add all your favorites in," she said. "For instance, sometimes we'll make it with navy beans but sometimes we'll add in steamed Okinawan sweet potato, depending on what we have in the house."
Visit Horita's food page on Instagram for more recipes.
See more UH-mazing holiday recipes
Recipe
Time: 20 minutes
Servings: 8
Ingredients
3 tbsp olive oil
1 large sweet onion, diced
1 tbsp curry powder
2 tbsp ginger, peeled and julienned
1 can pumpkin puree, 29 oz.
1 carton vegetable broth, 32 oz.
1 can navy beans, 16 oz.
1 can coconut milk, 13.5 oz.
Salt and pepper to taste
Kabocha, steamed (optional)
Directions
Dice the onion and peel then slice the ginger.
In a large pot, add in the olive oil and make sure it is hot before adding in the onion and ginger. Sautee for 2 minutes on medium heat.
Add the curry powder and saute until the onions are clear and soft.
Pour in the can of pumpkin puree, can of navy beans and carton of vegetable broth.
Keep the soup on medium heat until heated through and stir occasionally.
Stir in coconut milk and season to taste with salt and pepper.
Optional: Stir in your favorite add-ins! Ex: Steamed sweet potato and kabocha.
Enjoy!
Note: The soup will thicken in the fridge. Add water to thin it out to your liking when eating later.