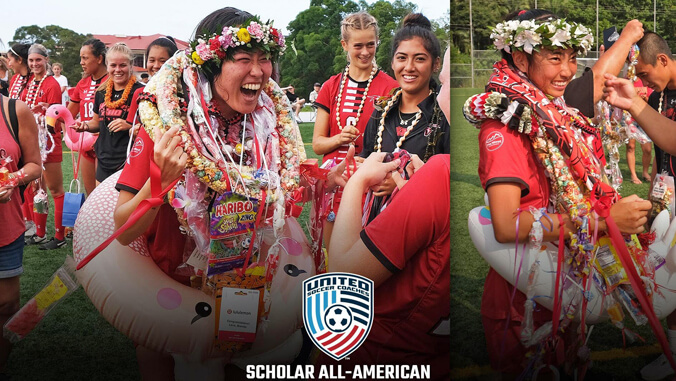 Days before walking across the stage at the University of Hawaiʻi at Hilo's 2022 fall commencement ceremony, soon-to-be graduate Daelenn Tokunaga was named the United Soccer Coaches Division II Women's Soccer National Scholar Athlete of the Year.
The fifth-year senior also repeated as a United Soccer Coaches Division II Scholar All-America First Team selection and was joined by Jodi Lillie, a Third-Team Scholar All-American.
Tokunaga, who achieved a 3.83 GPA, will graduate in fall 2022 with a bachelor's in administration of justice.
Lillie held a 3.78 GPA and graduated in spring 2022 with a bachelor's in business administration with a concentration in marketing.
Tokunaga and Lillie helped the Vulcans to an unbeaten regular season on the way to capturing back-to-back Pacific West Conference Championships and securing a hosting bid for the NCAA Division II West Regional. The Vulcans finished at 13-1-3 with an exit in the West Region Second Round.