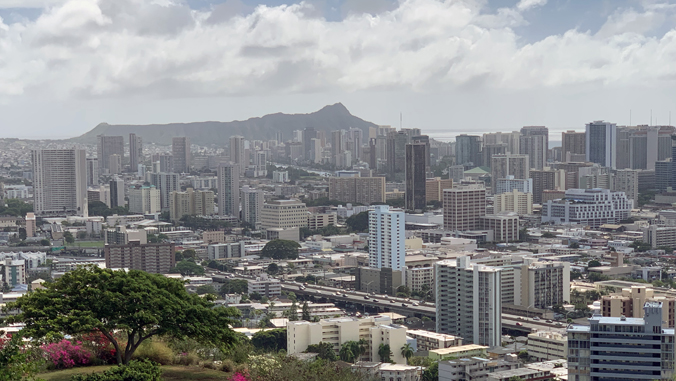 The global outlook continues to darken, but prospects for Hawaiʻi remain largely unchanged from the last report on September 23, according to a new economic forecast from the University of Hawaiʻi Economic Research Organization (UHERO). Rising interest rates, dwindling pandemic era savings and the coming U.S. downturn will cause a pause in growth next year. But the belated recovery of the Japanese visitor market and surging public sector construction will prevent a recession in the islands.
Highlights of the December 16 report:
The global outlook continues to deteriorate. Persistent high inflation is driving aggressive interest rate hikes, slowing growth. Energy constraints from Russia's war in Ukraine are sending Europe into recession. While supply chain woes have receded, China's COVID-19 struggles threaten further disruptions. The weak yen is weighing on Japanese consumer spending, including on vacations in

Hawaiʻi

.
The sharp rise in interest rates is battering the U.S. housing market.Transient factors that contributed to high inflation have eased, and core inflation will trend lower. While the labor market remains tight, job growth is easing and signs of broader economic slowing are emerging. The U.S. economy will enter a mild recession by the middle of next year.
Mixed control of Congress following the midterm elections will mean no major policy changes. The biggest risk is of temporary government shutdowns resulting from disputes over budget extensions and the federal debt ceiling.
By some measures,

Hawaiʻi

visitor numbers have recovered to pre-pandemic levels. The return of Japan visitors, which has been hindered by the late removal of travel restrictions and the weak yen, will offset a pullback of mainland arrivals next year. Rising room rates in

Hawaiʻi

have stabilized, even as occupancy remains below the 2019 level.

Hawaiʻi

inflation remains high, if lower than for the U.S. overall. Rising housing costs have yet to feed through fully, but the slowing of rent appreciation will bring relief. Together with declining energy and food costs, this will allow inflation to ease to less than 4% in 2023, cooling to roughly 2.5% by 2024.

Hawaiʻi

's labor market is not as tight as the mainland, with employment in some sectors still below their pre-COVID level. Still, excess demand for workers is driving up wages, even as inflation undercuts the purchasing power of income. Pandemic school closures and abundant employment opportunities have reduced the rate of college enrollment, particularly among lower-income students. This will reduce future earnings and widen inequality.
The drag from high prices and interest rates, coupled with the U.S. recession, will cause a pause in job growth next year and an uptick in unemployment, before growth resumes in 2024. Inflation-adjusted income will rise just 1% in 2023, but improve to about 2% thereafter.
Housing affordability has taken a big hit from soaring mortgage interest rates. As a result, home prices have begun to fall. Reduced affordability will increase the cost of developments with affordable unit requirements, likely resulting in some project delays or cancellations. Permitting delays also add to development costs. Large federal contracts and new hotel projects will support the construction sector, more than offsetting softer residential buildings.
Forecast uncertainty has increased since UHERO's last report. A best case scenario would see rapid decline in U.S. inflation, allowing an early interest rate retreat. If inflation proves intractable, the Fed will raise rates higher and longer. A stepped-up Ukraine War and greater COVID-19 challenges in China could further worsen global conditions. Poorer external and local demand might then precipitate an outright contraction here. Even in that case, a severe downturn remains unlikely.
UHERO is housed in UH Mānoa's College of Social Sciences.
Read more on UHERO's website and see this UHERO Focus video.