University of Hawaiʻi at Mānoa students enrolled in Professor Pier-Carlo Tommasi's Introduction to Classical Japanese course in the Department of East Asian Languages & Literatures (EALL) this fall channeled their inner poet. Tommasi co-hosted the 2022 Intercollegiate Classical Japanese Poetry Contest on December 6 alongside Professors Marjorie Burge (University of Colorado Boulder) and Jeffrey Niedermaier (Brown University) to encourage students to pen 31-syllable poems, a traditional Japanese literary form known as waka.
"The arts and the humanities—especially language-related ones—should serve as a means of self-cultivation and self-empowerment. This is especially true when it comes to classics, whose 'utility' is often questioned by the public opinion," said Tommasi. "In my JPN461 class, I encourage my students not just to memorize ancient grammar rules and patterns, but to take ownership of their learning process through open-ended, creative and multilingual assignments."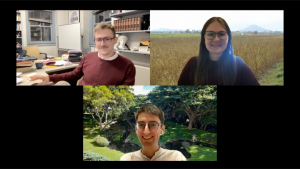 The literary contest resembled a modern take on traditional poetry competitions in Japan known as utaawase, which traces back to the Heian period (794–1185). Contestants were divided into teams and composed poems through a series of rounds. Following each round, a poem from each team went head to head to determine which composition was stronger.
Tommasi's contest was conducted via Zoom where submitted poems were anonymously matched in pairs and judged collectively. The audience shared constructive criticism and cast votes online to decree the winner for each round.
"I could feel that all of the poems had a personal flavor to them, as if they could have only been written by each person," said Rui Kono, a UH Mānoa student. "That balance of traditional aesthetics and contemporary worries and celebration was a fusion that brought lots of feelings to my heart as I listened. Through that, I wondered if the participants of utaawase in Heian Japan felt the same way I did just now? It's a rare experience being able to live history like this."
Kiyoe Minami, a research associate at the Honolulu Museum of Art, was among the guests who attended the virtual contest and casted votes.
"I was surprised to see that the students were not native speakers of Japanese, yet they were composing poems using the Japanese language of the Heian period. They also used special techniques in the composition of waka poems, such as allusions, pivot words, etcetera," Minami said.
Fifteen students from UH Mānoa participated along with six students from Brown University and four from University of Colorado Boulder. Organizers arranged it so the contest was completely anonymous and did not provide any prizes in an effort to encourage students to enjoy an atmosphere of harmony and congeniality.
"I liked that the different colleges were split as left and right teams rather than as individual colleges," said Monique DeLara, a UH Mānoa student. "The anonymity of the poems was reassuring. As an intro course for many students, the feedback was for the most part very friendly."
EALL is in the UH Mānoa College of Arts, Languages & Letters.
For more on the Intercollegiate Classical Japanese Poetry Contest go to the News and Events section of the EALL website.