In her role as commencement coordinator for the University of Hawaiʻi at Mānoa for the last 10 years, Lori Furoyama has been fortunate to take part in helping thousands of students make their graduation day possible. On December 17, after working through a good portion of the fall 2022 commencement ceremony, she took off her coordinator hat and donned her graduation cap and gown, joining 860 fellow graduates at the SimpliFi Arena at Stan Sheriff Center to receive her PhD in education with a focus on higher education.
"It took me six-and-a-half years to reach this milestone and I was so happy to have my family, friends and supporters there to celebrate with me, but as I sat in my seat wearing my cap and gown, I couldn't help but look around and see how we could make improvements. I got a few new ideas for next semester," said Furoyama. "It was such an interesting and surreal experience."
In the audience, cheering on her long-awaited accomplishment, were her parents, Annette and Larry Fujinaka, her brother Randall, husband Michael, daughter Kari, friends and colleagues. UH President David Lassner and UH Manoa Provost Michael Bruno, both of whom she has worked with closely over the years, also gave her a heartfelt congratulations as she received her degree and doctoral hood.
"I am so impressed by Lori's accomplishment. She has produced a piece of research that is leading edge, highly relevant and of lasting value, while at the same time meeting the demands of her very challenging job. We are all very proud of her!" said Bruno.
Higher education goals
Check out photos from UH Mānoa's commencement ceremony
Education and academia has always been a big part of Furoyama's upbringing. She also holds a BEd in elementary education from UH Mānoa and a MS in curriculum and instruction from the University of Wisconsin-Madison. Her parents instilled in her and her brother early on through their own educational endeavors that higher education was important. Her father, Larry, was a psychology professor at Leeward Community College for more than 30 years. Her mother, Annette, a UH Mānoa alumna, worked for the College of Education as an educational specialist for more than 20 years. Brother Randall is a UH Hilo and Kapiʻolani CC alumnus.
"My parents encouraged me to get a PhD before I even knew what a PhD was," she joked.
Furoyama was born in West Lafayette, Indiana, and raised in Hawaiʻi for most of her life. She would return to Indiana in high school during her father's sabbatical and then later to Wisconsin to pursue her master's degree.
"My father spent many years in Indiana for graduate studies and later teaching. He wanted my brother and I to experience what it was like living in the Midwest for a little while," she said.
Her experiences there combined with her years of working in various education industries contributed to her interest in her PhD dissertation focusing on the socialization of UH Mānoa instructional faculty who are new to Hawaiʻi.
"I experienced first-hand what it was like to be a minority in a new community and have people make assumptions and judgements about me based on my appearance, something I think many new residents experience in Hawaiʻi," Furoyama shared. "I wanted to know more about the stories and experiences of these new residents and what support services they may need from the university."
Furoyama hopes to publish her findings and also share them with state and community agencies to develop programs to assist new residents during their transitional years and help them connect within the community.
"We live in a collective culture where relationships and community are very important. This is an issue that affects anyone that lives in Hawaiʻi, whether they be long-time kamaʻāina or new residents," she said.
Love for the job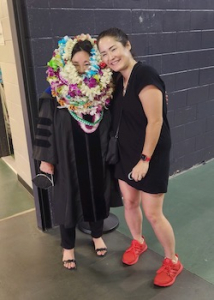 While it became a full circle moment for Furoyama upon receiving her degree, she admitted her coordinator hat had a much stronger impact.
Anticipating issues that arise and addressing them before they happen has been norm for the role, especially during the COVID-19 pandemic that pushed Furoyama and the commencement team to come up with creative solutions to address the day-to-day changes.
"I have one of the best jobs on campus to be able to work with students, faculty, staff, administration and the community to make graduation special for the students," she said. "Despite the challenges of COVID-19 (and having graduation fall during finals week when my papers were due and exams were held), the encouragement and support from everyone pushed me through."
Furoyama recognized her many supporters in her personal, professional and academic journey, including her family, former College of Tropical Agriculture and Human Resources dean and RCUH director Sylvia Yuen, co-commencement coordinator and supervisor April Quinn, College of Education colleagues, advisor and Associate Professor Chris Lucas and her dissertation committee members.
"There's a Japanese phrase, Okage Sama De. It means, 'I am who I am because of you.' I know I did not reach this goal alone. I was able to reach this point because of the support I received from those around me and those who came before me," said Furoyama.
—by Arlene Abiang
Read more about other UH Mānoa graduates:
Student speaker encourages graduates to embrace challenges, December 13, 2022
Graduating student's passion feeds fellow students in need, December 13, 2022
Fall 2022 graduate personalized degree, discovered passion at Mānoa, December 13, 2022
Public health grads discover passions, strengthen local workforce, December 12, 2022