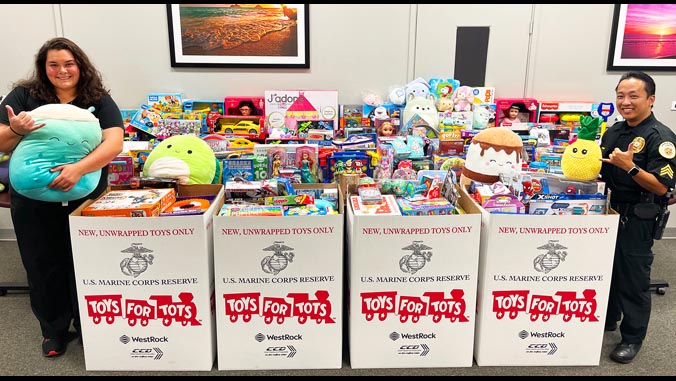 The University of Hawaiʻi at Mānoa Department of Public Safety (DPS) collected a record number of new toys donated by campus employees, students, and community members for the Toys for Tots drive this year.
Officers collected items throughout November and early December. This year's drive marks DPS' third year of collecting Toys for Tots at UH Mānoa. During this year's donation period, DPS collected hundreds of toys, filling nine large crates and making this their most successful drive to date.
"We are always grateful for the support shown by the community in collecting gifts during our Toys for Tots drive, and we truly appreciate everyone who donated," said DPS Chief Andrew Black.
Toys were collected in a variety of ways this year. Some departments set up smaller donation centers and later brought their contributions to DPS. DPS also picked up donations from on-campus locations.
The high volume of donations shows that charity is alive and well at UH Mānoa. DPS is grateful to all who contributed to this year's toy drive.