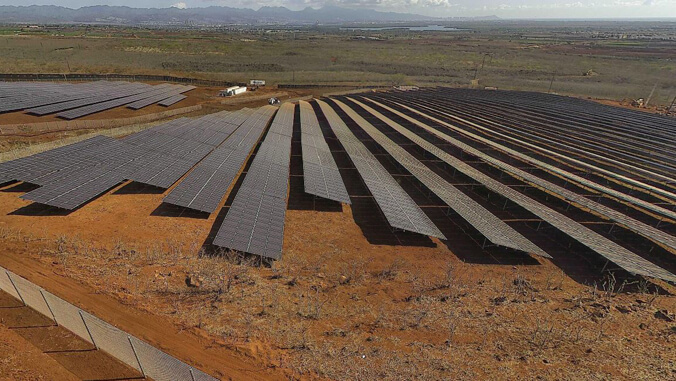 AES' West Oʻahu Solar project located on approximately 66 acres of lands at the University of Hawaiʻi–West Oʻahu – Mauka, will be a 12.5 megawatt solar photovoltaic (PV) facility with 50 megawatt hour of battery energy storage, which enables clean energy generated to be used when it's needed. This project will help UH reach its energy and sustainability goals while providing a new revenue stream to support higher education.
The West Oʻahu Solar Project site and boundaries were intentionally defined to allow other UH West Oʻahu – Mauka lands with a higher productivity rating to be used for future agricultural activities. AES leases approximately 66 acres of land for the West Oʻahu Solar Project from UH and will sell the electricity it generates to Hawaiian Electric Industries. AES is targeting June 2023 for construction completion and the start of operations.
The West Oʻahu Solar Project at UH West Oʻahu – Mauka is the latest initiative helping the 10-campus system reach its goal of net-zero energy by 2035. UH defines this net-zero energy goal as consuming only as much energy as is produced by its renewable energy resources.
"This project is proof of our commitment to our net-zero energy goal," said Jan Gouveia, UH vice president for administration. "It will help generate revenue to support our higher education mission while also showing our students and the people of Hawaiʻi that the University of Hawaiʻi is doing its part to save our planet."
The project will generate lease revenue for UH to support its higher education mission. In addition, AES will be contributing $25,000 to UH Foundation to establish an education program to support UH West Oʻahu's development of STEM programs, which include informational material, educational and training sessions, internship and employment opportunities, and access to the solar PV project.
"This is a beneficial project for the University in that it helps contribute to our net-zero energy goals, while creating an additional lease revenue stream and educational contributions towards STEM programs and initiatives of the University," said Michael Shibata, UH director of Strategic Development and Partnership.