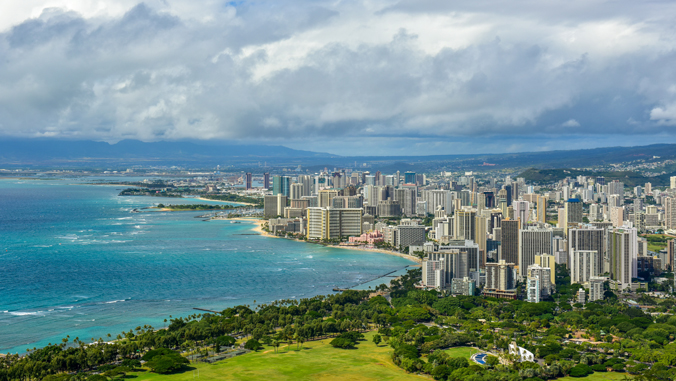 More Hawaiʻi residents are contracting COVID-19, fewer are getting COVID-19 booster shots and the number of those impacted by long-COVID illnesses remain high, according to a new comprehensive report released on January 5 by researchers in the University of Hawaiʻi Economic Research Organization (UHERO).
The report is based on survey responses from 1,627 Hawaiʻi residents over the age of 18 in fall 2022. In partnership with the Pacific Alliance Against COVID-19, this was the second survey developed to inform the design and execution of public health programs in Hawaiʻi for COVID-19 and other disasters while addressing systemic health disparities. Researchers have a statewide cohort of more than 2,000 adult residents in the state that are being surveyed regularly over time.
The first report was released on June 20, 2022 and was based on survey responses conducted in May 2022.
Highlights of the January 5 report:
COVID-19 outcomes and vaccination
COVID-19 positivity has increased since the last report. In November, 45.5% of respondents had tested positive for COVID-19 at least once, compared to only 24.8% in May. Higher rates continue to be seen among younger adults, Native Hawaiian, Pacific Islander, and Filipino populations, as well as among unvaccinated and unboosted individuals.
High vaccination rate and low booster shots among adults. 94.5% of respondents are vaccinated but only 27% of the sample received the bivalent booster shot.
Long-COVID outcomes remain high. The overall rate of long-COVID remained stable at close to 30%, but more individuals reported severe or very severe symptoms in the fall compared to the spring. The expected length of long-COVID symptoms increased by almost one month since the last report to 4.42 months.
Flu shot uptake is correlated with COVID-19 vaccination. 62% of respondents have already gotten their flu shots, with an additional 8.4% planning to get one. 77.3% of COVID-vaccinated individuals have or plan to get a flu shot, compared to only 21.8% of those COVID-unvaccinated.
Perceptions and views of COVID-19
Perceptions of neighborhood/community safety against COVID-19 have risen. More people felt safe or very safe in the fall (68.7%) compared to the spring (61%).
Some people feel COVID-19 fatigue. Signs of COVID fatigue are present in our populations. The highest levels were found among those unvaccinated and those vaccinated without booster shots.
COVID-19 Impacts
The impact of the COVID-19 pandemic continues to increase since May 2022. 28.6% of the individuals reported having their savings depleted, 13.6% were unable to pay bills and 9% did not have enough food in their household. 4.4% of the individuals lost their jobs, and 7.2% of the individuals were furloughed or reduced their working hours since May 2022.
Long-COVID is negatively affecting employment. Despite the rate of long-COVID being about 30%, unemployed individuals have a 47% rate of long-COVID, a 5-point increase since May.
Depression symptoms remain high but stable. Rates of depression symptoms remained stable since May, at about 1 in 3 adults reporting depression symptoms, with higher levels of depression reported by those affected by the pandemic.
Race disparities were observed in mental health outcomes. Korean and Japanese respondents had the best mental health outcomes, while Native Hawaiian, Latino and Native American respondents had the lowest mental health outcomes.
Food insecurity remained high but stable. The percentage of respondents reporting low food security reduced slightly to 8.2% from 8.4% in May.
"Overall, as we enter a new phase of the pandemic, Hawaiʻi's populations are becoming more confident that the worst of the pandemic is behind us, driving COVID-19 booster uptake down," according to Ruben Juarez, HMSA Endowed Professor in Health Economics at UHERO. "Significant impacts exacerbated by the pandemic, including long-COVID, mental health issues and the impact of long-COVID on unemployment, may pose significant challenges that warrant monitoring."
UHERO is housed in UH Mānoa's College of Social Sciences.