University of Hawaiʻi at Mānoa sophomore Blaze Akana experienced one of the biggest opportunities in Hawaiʻi amateur golf—teeing it up alongside the top professionals in the world in the PGA Tour's Sony Open.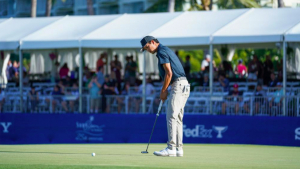 Akana shot a 1-over 71 in the first round and a 2-over 72 in the second round. Despite missing the cut in his first appearance in a PGA Tour event, Akana saw several bright spots at Waiʻalae Country Club including carding birdies on some of the most difficult holes on the golf course. Akana birdied the first and second holes in the first round (his 10th and 11th of the day since he started on the back nine), which are a pair of demanding par fours. He also added a birdie on the 13th hole, a near 500-yard par four, in the second round. In total, Akana racked up eight birdies, which were offset by 13 bogeys to finish the 36 holes at 3-over.
Akana was one of two amateurs in the elite field, meaning they could not earn prize money. He joined the likes of UH Mānoa alumni Jared Sawada, Brandan Kop, T.J. Kua and David Saka to play in the Sony Open as an amateur.
Qualifier featured present, past Rainbow Warriors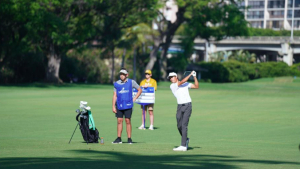 The Honolulu native secured an exemption into the Sony Open via an 18-hole qualifier, which featured the top 12 ranked Hawaiʻi amateur golfers in 2022. Akana shot a 3-under 69 at Waiʻalae Country Club last November to beat out UCLA commit Luciano Conlan and ʻIolani School senior Dane Watanabe by one shot. Also competing in the event were current UH Mānoa golfers Joshua Hayashida and Tyler Ogawa, and UH Mānoa alumnus Shawn Sakoda. The tournament has granted an annual sponsor's exemption into the Sony Open to a top Hawaiʻi amateur since 1995.
Early season success
Akana, a 2020 Kamehameha Schools Kapālama graduate, played in all three of UH's fall tournaments, tallying his best finish in a tie-for-19th at the Bill Cullum Invitational in October 2022. It was at the tournament in Valencia, California where he also carded his low round of the fall season, a 4-under 68 in the second round.
Akana returned home to play for the Rainbow Warriors after spending two seasons at Sacramento State. Over both years, he competed in 11 of the team's 12 tournaments, compiling a 73.6 scoring average and was named second team all-Big Sky in 2021–22.