The University of Hawaiʻi at Mānoa John A. Burns School of Medicine (JABSOM) provided the opportunity for nearly 100 medical students and their donors to meet face-to-face at its annual scholarship dinner held at the school on January 12.
According to the Liaison Committee on Medical Education, 93% of JABSOM students receive a scholarship, compared to 64% average at medical schools in the U.S. and Canada. The abundance of scholarships allows JABSOM students to graduate medical school with less debt and positions them to stay and practice in Hawaiʻi after completing their residency. For many, the path to becoming a doctor would not be paved without scholarships.
Donor's story resonates with future doctor
Joanna Reinhardt is a fourth-year medical student at JABSOM and a single parent raising three children. She had financial concerns before starting at JABSOM.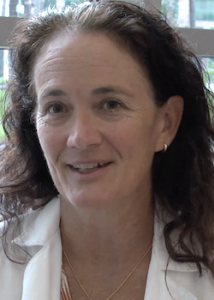 One of the scholarships funding Reinhardt's JABSOM education is the Florence J. Chinn Memorial Scholarship. Chinn was a female pioneer in medicine who attended the Woman's Medical College of Pennsylvania, one of only two nationwide medical schools dedicated to training female physicians. She moved to Hawaiʻi in 1959 and became one of the first Chinese female board-certified internists in the state. Chinn accomplished all of this while raising five children on her own. Decades later, Chinn's story still resonates today and is reflected in future doctors like Reinhardt.
"I am very honored to be one of the first recipients of this scholarship. I feel like Dr. Chinn's story was amazing, especially since she was able to make that leap generations ago," said Reinhardt. "It was very meaningful for me to be able to follow in her footsteps and have financial support."
At the dinner, Reinhardt put a face to the name of her scholarship by meeting Chinn's son, William Loui, who is also a JABSOM alum. She presented him with a lei and explained how his mother's scholarship would pay dividends for our state in years to come.
Loui said his mother's scholarship fund was initially going to her alma mater, but the family felt it would have a more significant impact in Hawaiʻi.
"It's really something that was drilled into us by our mother. In fact, she made us promise that we would do this. We can't take everything in life. We have to give back to the community," he said.
Immigrant upbringing inspires student
At the age of 8, first-year medical student Anita Cheung would get very familiar with the social determinants of health. Her parents immigrated from Hong Kong and spoke little English, so Cheung was tasked with translating somber medical diagnoses like her father's diabetes, hypertension and hyperthyroidism. Forced to grow up at such a young age, Cheung didn't have a childhood like her peers.
As a child of a first-generation immigrant, I see a lot of the obstacles they go through, and I want to be able to make a difference in that community specifically
—Anita Cheung
"As a kid, I don't think I knew how to process those emotions," she said. She knew that a child should not have to be put in these situations, which eventually sparked her desire to become a doctor. Cheung remembers wondering, "how can I make that change in the future so that others don't have to go through what I did."
After completing her undergraduate studies on the mainland, Cheung returned to Hawaiʻi to become part of JABSOM's ʻImi Hoʻōla Post-Baccalaureate program, a small cohort who are put on a rigorous, year-long path that allows them to become JABSOM students.
Cheung is now thriving at JABSOM. She has a four-year, full-tuition scholarship from the Queen's Health System, which ensures zero debt upon graduation.
"Thanks to the Queen's scholarship, debt is something that I don't have to worry about. Going to medical school is a huge financial decision. As a child of a first-generation immigrant, I see a lot of the obstacles they go through, and I want to be able to make a difference in that community specifically…Hawaiʻi is home, and the people here are the people I want to serve," she said.
For more go to the JABSOM website.