A new student-designed mural depicting shark goddess Kaʻahupāhau, and her brother, Kahiʻukā greets students and visitors to Leeward Community College's Learning Commons and Library. The installment, "Nā Kiaʻi o Puʻuloa (The Protectors of Puʻuloa)," was art student Taylor Wilson's way of highlighting the guardians of the region.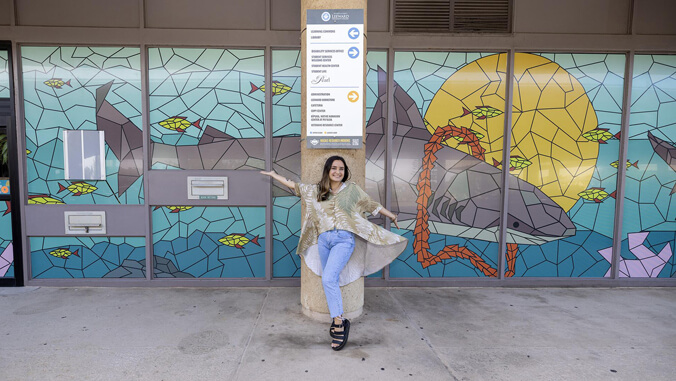 Leeward CC's Learning Commons and Library faculty and staff had requested a window covering that could reduce glare and filter light coming through the large mauka facing windows of the building.
"We determined right away that we wanted to use this as an opportunity to display some of our Hawaiian moʻolelo (stories)—our Hawaiian traditions," said Annemarie Paikai, Leeward CCʻs Hawaiʻi-Pacific resource librarian. She, along with library faculty and staff, and art faculty, Erika Molyneux, sought the counsel of Momi Kamahele, Leeward CC's Native Hawaiian Center coordinator, for ways to uplift the stories of the region.
This resulted in a spring 2022 semester project that involved several art classes. Students had to design a multi-panel mural that would eventually be printed on perforated vinyl and installed on the windows. Paikai shared the history and moʻolelo of Puʻuloa with the students, who then conducted their own research, and presented their artwork to a selection committee before a final piece was chosen.
"I was amazed by the variety of responses we got," recalled Molyneux. "I was really impressed with their use of ʻŌlelo Noʻeau, both in the designs and in their titles, and how thoughtful their designs and reflections were."
Ultimately, art student Wilson's design was chosen for the mural.
"As ʻaumakua of Puʻuloa, Kaʻahupāhau and Kahiʻukā defended the area from man-eating sharks and provided for the people that lived here," said Wilson. Showing a harmonious relationship was important to her, knowing that this piece would greet people as they enter the main campus. "I chose to focus on portraying the sharks more simply in harmony with the ocean, the fish, and the area," said Wilson.
Wilson's colorful depiction of the story of Kaʻahupāhau was created with careful considerations regarding style and color palette, "I started to think about mosaic pieces and how there's a stained glass effect inside of cathedrals and how it brings a sense of peace and lets light in," she said. "That's why I chose brighter colors…as well as that big sun (in between the sharks) showing that there's a light that they bring."
The mural was installed in late November of 2022. "I absolutely love it," said Chancellor Carlos Peñaloza. "It's a shining example of a cross-campus collaboration that honors our efforts to indigenize Leeward."
Wilson, who is still trying to take everything in, said, "Itʻs very surreal. It still hasn't fully hit me. Every time I come to campus or I see the photos I just stand there in awe."
On January 4, 2023, Leeward CC held a small dedication ceremony for the mural. Faculty and staff gathered for a short program that included a traditional Hawaiian dedication and appearances by key individuals who were involved in the project.
Also in attendance were two special guests: Lonnie Briggs, whose donations support Leeward's Enrichment Fund and the Kimo Farrish Memorial Scholarship, and Mike Lee, who honors the memory of his late wife, Karen Fujishima-Lee (a former math instructor at Leeward CC) through a memorial scholarship in her name and the Fujishima-Lee Emergency Student Support Fund. Lee has also supported Leeward's Food Service Enhancement Fund.
Learn more about The Arts at Leeward CC.