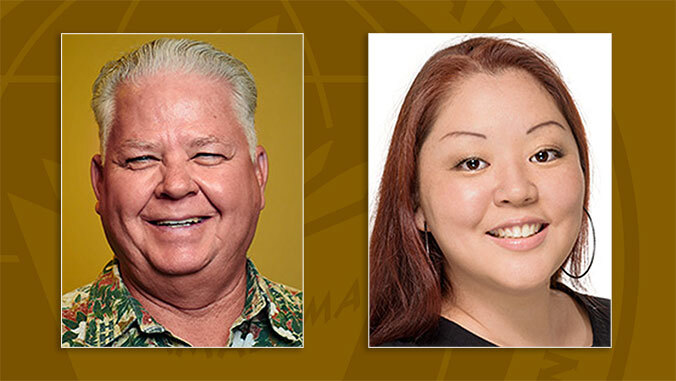 Former University of Hawaiʻi regents Robert Frank Westerman, Sr. and Kelli Acopan were honored by their fellow regents for their service and commitment to the UH 10-campus system at the January 19 Board of Regents (BOR) meeting. Their terms as regents ended in 2022.
Westerman, a Vietnam veteran who had an illustrious military career and was awarded several commendations and medals, was also a retired chief administrator of the Kauaʻi Fire Department. He was appointed by Gov. David Ige in 2019 and represented the county of Kauaʻi on the board through June 2022.
During his tenure, Westerman served on various committees and held multiple leadership roles, including chair and vice chair, as well as on a number of task groups and affiliated organizations.
According to a resolution adopted by the board honoring Westerman, he is honored for, "his dedicated service, guidance, and invaluable contributions to the University of Hawaiʻi and the State of
Hawaiʻi."
During the meeting, Westerman expressed his mahalo for those he served with and for the UH System for all of the great work it does.
He earned his MBA from UH Manoa and a BSBA from the University of Phoenix.
Acopan, who served as the student member of the BOR, was appointed by Gov. Ige June 2019 through June 2020, and reappointed for a two year-term. During her tenure on the board, she served on many committees, including as vice chair, and was also a part of a number of affiliated organizations.
According to the resolution, she "has been the consummate student advocate dedicating herself to both undergraduate and graduate students." Acopan championed issues such as increased student engagement, greater availability of Open Education Resources and administrative transparency, and supporting student success through academic and outreach activities for students aged K–12 and beyond.
Acopan conveyed her gratitude for the opportunity to serve on the board as the student voice and hopes to continue supporting the university in the future.
She is a proud alumna having earned her associate of arts in liberal arts at Windward Community College and a bachelor of arts in history at UH Mānoa. She is currently seeking a master's degree in history at UH Mānoa.
BOR resolutions honoring Westerman and Acopan (Agenda Item V) (PDF)