Anarchist letterpress printers and presses from the late 1800s through the 1940s is the focus of a new book by a University of Hawaiʻi at Mānoa Department of Political Science and Department of Women, Gender, and Sexuality Studies faculty member.
Professor Kathy Ferguson's work Letterpress Revolution: The Politics of Anarchist Print Culture, details the importance of printed materials that galvanized anarchist movements across the U.S. and Great Britain. The book will be released on February 24, and is published by Duke University Press.
Anarchism is a political movement that is skeptical of all justifications for authority and holds all forms of governmental authority to be unnecessary. Ferguson shows how printers arranged text, ink, images, graphic markers and blank space within the design of a page. Their extensive correspondence with fellow anarchists and publishing their radical ideas brought the decentralized anarchist movements together. By diving deeper into the practices of anarchist print culture, Ferguson points to possible methods for cultivating contemporary political resistance.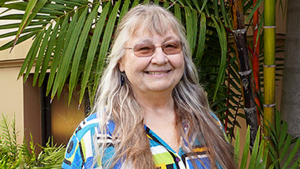 "The anarchists organized a remarkable political movement largely through their print culture: writing, printing, distributing, reading, and archiving their publications brought them together. Their success suggests that the act of making things together generates political energy," Ferguson said.
Ferguson is the author of several books, including Emma Goldman: Political Thinking in the Streets, which is about a central figure in the anarchist movement. She is working on another book on women in the anarchist movement whose contributions have been underrated or lost. Ferguson's goal when writing these two books is to bring women more fully into anarchism, and at the same time to bring anarchism more fully into feminism. She hopes to bring these radical histories to light to make our understanding of them more robust so that we can use them better today.
The Department of Political Science and Department of Women, Gender, and Sexuality Studies are housed in the UH Mānoa College of Social Sciences.