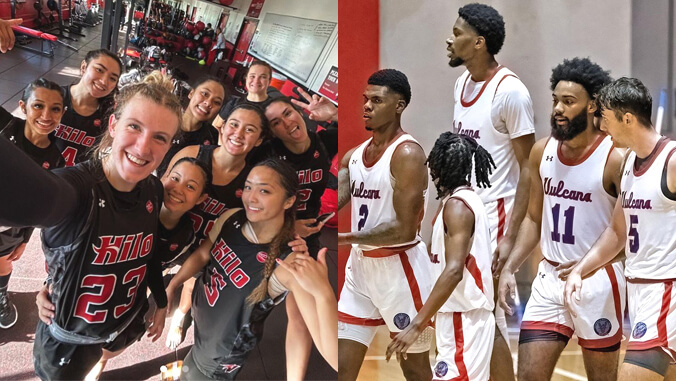 The University of Hawaiʻi at Hilo women's and men's basketball teams defeated Holy Names University on the road in Oakland, California in Pacific West Conference play on January 22.
Women's basketball
Strong finishes to both halves, including giving up just one basket in the fourth quarter, helped the women's basketball team shut down Holy Names, 65-34. Kamalu Kamakawiwoʻole led the team with 19 points along with eight rebounds and two blocks.
With this win, the Vulcans moved to 7-10 overall, 4-7 PacWest play. They also improved to No. 7 in the PacWest.
For a full game recap, visit hiloathletics.com.
Men's basketball
The men's basketball team started its first out-of-state road trip with a tight 66-65 win as Holy Names' final shot came up empty at the final buzzer. Carlos Ramsey Jr. led the Vuclans with 19 points on 6-of-9 shooting from the field and 6-of-7 at the free throw line.
With this game, the team moved to 12-4 overall, 8-3 PacWest play. They remain at No. 2 in the PacWest standings.
For more, visit hiloathletics.com.