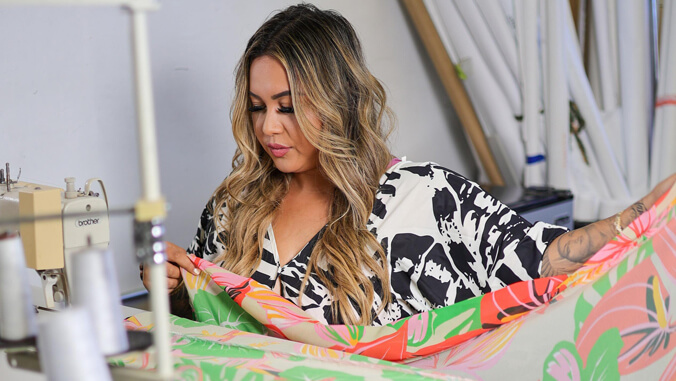 LexBreezy Hawaiʻi founder Alexis Akiona is working to engage Hawaiʻi's younger generation through aloha wear with her own modern twist on classic Native Hawaiian designs. She's giving back to her alma mater with a scholarship at Honolulu Community College to help dozens of other students create careers in fashion.
Her gift of $50,000 over five years to Honolulu CC will provide 20 scholarships each year for fashion and cosmetology students, with a preference for Native Hawaiian students.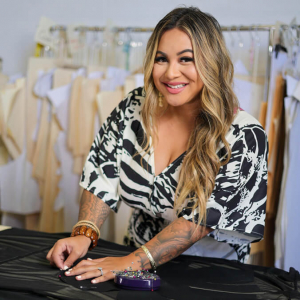 Akiona said she was inspired to give back to Honolulu CC by the help she had received as a student, in particular a scholarship established by Native Hawaiian aloha wear brand Manuhealiʻi that allowed her to quit a part-time job and focus all her efforts on her studies. Receiving a scholarship made her feel like someone believed in her.
"That's what I wanted to do for other future designers, whether they're doing aloha wear or not," she said. "Because that's really my mission, to inspire the younger generation to embrace aloha wear and to inspire them to chase their dreams."
Honolulu CC Chancellor Karen Lee said Akiona is a role model for students.
"She honed her craft and skills through our Fashion Technology program, founded a successful local aloha wear company, and is giving back to the college as a partner and as a scholarship donor," Lee said. "We are honored to have an alumna like Alexis."
Big Island roots
Fashion runs in Akiona's family. Her mother, Lola Miller, owns Simply Sisters by Lola Miller Designs, an aloha wear company in Hilo, where Akiona grew up.
After graduating from Waiākea High School, Akiona moved to Oʻahu and enrolled at Kapiʻolani CC to become a radiology technician. While at Kapiʻolani CC, she started working for a local streetwear company designing T-shirts and hats and started building a following.
She had found her passion, and at age 22 launched her modern aloha wear and resort wear brand LexBreezy Hawaiʻi at the 2016 Merrie Monarch Arts & Crafts Fair during the week of the famed hula festival.
Next level
After experiencing some early success, Akiona realized she needed foundational skills to take her creative vision, and business, to the next level. She enrolled in the Fashion Technology program at Honolulu CC, where she learned everything from designing to manufacturing clothing. She graduated from the program in May 2019.
"I kind of did things a little backwards—I started my company and then went back to school," she said. "But in the end, for me it was so important to do that."
At Honolulu CC, she learned the nuts and bolts of the fashion industry.
"I went in there not knowing how to sew, not knowing how to make patterns; all I knew was what I wanted to wear," she said. "Now I can go into a factory and I know what they're talking about. I know what a seam is. I know what all my fractions are, I know the language of manufacturing."
Akiona, 29, is also a mom of two small sons, Lawaiʻa and Kiaʻi, with her husband James Akiona. She was pregnant with her younger son when she opened her LexBreezy Hawaiʻi boutique in Kailua in June 2021.
Accelerating growth
In May 2022, LexBreezy Hawaiʻi was among seven Hawaiʻi companies selected from 138 applicants to participate in the seventh cohort of Mana Up, a local accelerator for Hawaiʻi-based businesses looking to grow to the next level, and in November took part in the Mana Up Showcase with a large display of her designs on the main floor of Bloomingdale's in Ala Moana Center.
Today her company has 13 employees spread among a shop in Kailua, production, fulfillment for online orders from the LexBreezy Hawaiʻi website and a wholesale division. Her LexBreezy children's line was recently picked up by Nordstrom and her designs are sold in the House of Mana Up stores in Waikīkī and online.
"When I joined Mana Up it was more about giving your time and giving back," Akiona said. "That's what I feel like success is, just being able to give."